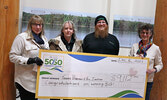 Co-workers win big in SLMHC Foundation 50/50 Charity Draw
Tim Brody - Editor
Christmas came early for two co-workers who were the lucky winners of the Sioux Lookout Meno Ya Win Health Centre Foundation's Dec. 16, 50/50 Charity Draw.
Tammy Perreault and Eric Ingram, co-workers at Sioux Lookout Remedy's Rx Pharmacy, were shocked when they found out they'd won, splitting $9112.
"Because it's a pool at work, I was on my coffee break and I was just checking the number and went, "That's our number!... so, I went out to where everyone else was standing and said, "We won!"
Only she and Ingram were paid up for that draw in the office pool.
Perreault and Ingram said it was a very happy surprise.
"I forgot I was in," said Ingram, who had paid several draws in advance. "Tammy comes up and says, "hey, we won!" I went, "we won what?" "The 50/50," she said. "I said what 50/50?" I was super shocked.
Perreault said, "We're (she and her husband) going to Winnipeg for New Years, so maybe we'll spent a little bit more than we planned on."
"I'm also going for the same New Year's event, so maybe some light shopping," Ingram agreed.
Neither had won anything like this before. Both said they are happy to support the health centre.
"That's the main reason why we did it, it's going into the community, it's money well spent," Perreault said. "The way I saw it the whole time is that the money is going to something good," Ingram echoed.
Foundation Treasurer Rita Demetzer said, "It's the last draw of 2022 and the last draw of our current license. We've renewed for another year. We had a good year. We're, as always, extremely grateful for the generosity and support of everybody in town, in Ontario, and across the country."
All lottery proceeds help with the purchase and replacement of hospital equipment she said. "We always need funding for equipment… the Ministry does not fund equipment for hospitals, so we always have to raise the money to ensure we can provide the best equipment for the best care for all of the patients," Demetzer concluded.
Tuesday, December 20, 2022
Mikinakoos Children's Fund is partnering with Jade Linklater, a 14-year-old artist from Sandy Lake First Nation, on holiday cards featuring a selection of her art...