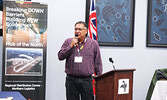 Clifford Bull elected Lac Seul First Nation chief
Reeti Meenakshi Rohilla - Staff Writer
Clifford Bull, who has previously served as chief of Lac Seul First Nation, has been elected again.
According to the November 13 Statement of the Votes, Bull narrowly defeated incumbent Chief Derek Maud in last Friday's Lac Seul First Nation election. Bull received 228 votes, 13 more than Maud.
Roger Wade Bull was elected Whitefish Bay Councillor, Gerald Kejick, Stanley Littledeer and Darrin Trout Sr. were elected Kejick Bay Councillors and Raymond Angeconeb, Samantha Kejick, Elvis Trout and Nora Vincent were elected Frenchman's Head Councillors.