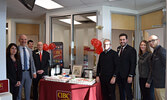 CIBC celebrates 100 years in Sioux Lookout
Jesse Bonello - Staff Writer
Sioux Lookout's Canadian Imperial Bank of Commerce (CIBC) celebrated their long history in Sioux Lookout, reaching the 100-year mark of serving the community, during a cake-cutting ceremony on Dec. 18.
CIBC representatives from across the region, along with Sioux Lookout Mayor Doug Lawrance, joined the local branch in celebrating the milestone during the ceremony.
"It's great to have the personal service still in Sioux Lookout with 100 years of that and moving in to the future. I know the banking industry is changing. I truly appreciate CIBC's continued significant presence in the community, and we hope to see that going forward," said Lawrance.
"We're super proud to be celebrating this today and to be part of this community," said Trevor Martel, Sioux Lookout CIBC General Manager.
"We look forward to demonstrating our continued commitment to this community, to fully meeting the financial needs of our clients, and helping them achieve that," he added.
"These are really important celebrations, so we're proud of the fact that we've been in this community for 100 years… We're very proud to be here. This is a big deal for us to have 100-year celebrations, especially in smaller towns and communities. It means a lot, so we're very happy to be here. We're happy with the patronage, the relationships we've built, and we have a great team here," said Chris Giulekas, CIBC Vice President and Region Head for Northern Canada.
Along with celebrating 100 years of being in Sioux Lookout, the local CIBC branch found out that they had been ranked the number one branch in Canada based on various metrics that are used to rank individual branches. Martel said branches are ranked weekly across Canada, receiving new reports that come out every Wednesday.
"All of the branches in Canada are ranked based on different metrics whether it be customer satisfaction, sales, things like that. We've hovered in the top-ten since our fiscal year started in November, but this is the first time that we've hit number one. It's kind of funny that it happens to be this week… Branches are ranked weekly and new reports come out every Wednesday, so it just came out this morning that we were number one. We're very happy about that," said Martel.
"We're also celebrating this morning that this team is currently number one in the country. We're actually ranked number-one in the country out of all the various metrics, including a number of client metrics, so that measures the satisfaction of our clients. Congratulations to the team, and it's a fitting day to be number one," said Giulekas.
Martel said branch clients have been, and will continue to be, the top priority for staff in Sioux Lookout.
"It's all about the client. The client is our primary focus, so if we can keep our clients happy it's a win-win for everybody. It's good for the client and, by our ranking, it's good for us as well, so as long as we're keeping the client the centre of our attention then we'll be here for the next hundred (years)," he said.