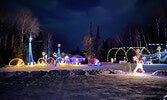 Christmas lights!
Judy Henrickson is inviting the community to her 698 Drayton Road home, where she has put hours of work and love into creating an elaborate Christmas lights display synced to the music of six holiday songs.
Henrickson turned on her display for the season on
Dec. 1, running it daily from 5 p.m. to 10 p.m. During the week of Christmas, Henrickson said she plans to leave the display on until 11 p.m.
A volunteer with Sioux Looks Out For Paws, Henrickson has set up a donation box where people can donate to the animal rescue.
She said quite a few people have stopped by to view the display, which she plans to run until the middle of January.