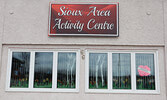 Changing seasons
Sioux Area Seniors Activity Centre member Charron Sippola, with assistance from fellow members Sandra Lockhart and Joan Kydd, recently changed the display on the Seniors Centre window, mirroring the current face of spring.
Sippola said, "I put tulips, daffodils and hyacinths, those are spring flowers that have come up."
"We did a bunch of birds sitting on the wires and birds in the trees. And we'll just keep adding as the spring grows and we get more green in our world," she added.