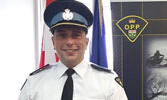 Change in leadership at Sioux Lookout OPP Detachment
Tim Brody -
Editor
Inspector Karl Duewel has taken over the role of Detachment Commander at the Sioux Lookout Ontario Provincial Police Detachment.
His predecessor, Inspector Dan Davidson, officially retired earlier this year in February.
Duewel started his policing career as a Cadet in Prince Edward County in 2001. He was posted to Sioux Lookout in 2002, for his first placement as a Provincial Constable.
"From there, he moved through the Sioux Lookout Crime Unit to the Napanee Crime Unit, in East Region. He then took on the role of Operations Manager at the Upper Ottawa Valley Detachment, followed by Staff Development and Training Officer for East Region.
"Inspector Duewel returned to the Northwest Region as a Staff Sergeant in 2018, taking on the role of the Operations Manager for the Sioux Lookout Detachment, overseeing operations in Sioux Lookout, Pickle Lake, Kitchenuhmaykoosib Inninuwug First Nation, Wapekeka First Nation, and Weagamow Lake First Nation. Inspector Duewel took on the role of Acting Detective Inspector, Criminal Investigations Branch in the summer of 2020, and has been the Acting Commander, Sioux Lookout Detachment, since September 2020," Ontario Provincial Police shared.
In 2014, Duewel received the Regional Commander's Commendation for Policing Excellence for his dedication to criminal investigations in North West Region.
Duewel officially became the Commander of the Sioux Lookout Detachment on April 13.
"This is a challenge that I am really excited to take on," Duewel shared. "It's a priority for me to ensure that our workplace here in our cluster is a high performing, positive workplace, where we all take care of each other and recognize our physical and mental health of all the members. We're going to build on the great work previously laid out by former Inspector, Detachment Commander Dan Davidson and the detachment members, to maintain and build upon those positive relationships with community stakeholders and build strong relationships where possible, is priority."
Duewel added, "In my experience working in various detachments across the province, I say you can take me anywhere in the Sioux Lookout cluster, from our street crime unit, to our detectives unit, to the work done by the frontline officers… and I couldn't be more proud of the work that I'm seeing. This cluster is full of really good and hardworking people who care about their communities they serve and try to go above and beyond every day. With that said, there' always room for improvement. I've never worked in a detachment where I've felt that we've reached the ultimate in terms of our goals; we're always trying to do better, looking for how we can be more effective, more efficient, and more compassionate in how we reduce victimization. There's always room for growth."
"I, and the detachment, are committed to building upon the positive relationships that we already have with the Municipality of Sioux Lookout, the Town of Pickle Lake, and Chiefs and Councils in our northern Indigenous communities. We want to make sure that we continue to have an environment of mutual trust, respect and understanding, so we can help create a safe and healthy community," Duewel concluded.