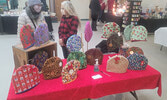 Chamber wraps up busy year with Last Chance Christmas Market, looks ahead to next year
Mike Lawrence -
Staff Writer
The Sioux Lookout Chamber of Commerce wrapped up its year with a Last Chance Christmas Market at the Legion on Saturday, Dec 18. Seventeen vendors sold a variety of items at the event to help people with last minute gifts for their loved ones.
The Last Chance Christmas Market was just the most recent in a line of successful vendor events the Chamber has run throughout the summer and fall of 2021.
As Christine Hoey, Chamber of Commerce Manager and Treasurer explained, while it may have been the last market of the year, it won't be the last of the winter, stating, "Counting this Christmas market, it's approximately ten that we had through summer into the winter. We are probably going to host some more through the winter, like February, March, and April, because there are so many home-based businesses. There are so many people that are doing all kinds of crafty things and they just don't get a chance to showcase that, so we are hoping to be able to run something in February and March for sure."
The hope is to continue to utilize the Legion's upstairs space for the winter markets due to the convenience and ability to draw shoppers to other downtown locations. As Hoey explained, "We hope to again be utilizing the Legion because it's downtown. There's lots of parking and it gets people out shopping locally and supports local business. Once people are out, they go to other stores, go for coffee, all of that. We are also hosting pop-up stores, so if somebody is interested, they can rent the Travel Information Centre (TIC) any day of the week to sell their wares. They can have the place for the whole day. We tend to get a lot of the out-of-towners that come to do that, like Cornell Farms, Rainy River Elk, or Hubers. With COVID restrictions changing and changing again, we offer these pop-ups for them, and for anybody who doesn't have a storefront. We'll be hosting those all winter if anybody's interested."
Asked about any trends that the Chamber may have noticed in local home-based businesses since the pandemic began, Hoey had this to say. "Particularly in Sioux Lookout I've noticed a lot of people are doing, say, woodworking, or crafts or making food and baking. Compared to a couple of years ago for sure, I'd say its probably double from what people used to do. I think a lot of people have been working from home, so they have more spare time. They're not travelling, the kids don't have hockey. There was nothing happening in the evening, so people got more into it. It's a nice second income. That's why we came up with the idea of the pop-up shops, because we thought if people don't know about (their business), or they're not on Facebook, we can offer the TIC to them so people can see their wares."
And it wasn't just markets or pop-up shops that had the Chamber so busy.
"We had an eventful year," Hoey continued. "We had our summer staff here until the end of August, they were really great staff that did a lot of small activities at the TIC in 2021, just stuff that was COVID safe, so that we could follow the protocols. Hopefully we'll be able to do the same things this summer. We also hosted the Santa Claus Parade which was a great success. We just wrapped up the Northern Experience Magazine, that's in the office and being shipped out as we speak."
Looking ahead, Hoey expects a busy and productive year to come, given that COVID protocols allow.
"We are planning on doing the Trade Show in 2022. We haven't been able to do that for two years now, so we are looking at that in the summer. We also have things in the works with the Blueberry Festival because its the 40th anniversary (next summer). So, lots in the works. We've had an eventful year even with COVID. Our membership wasn't as high in 2020, 2021, just because we knew that people were watching their finances. We are hoping to do a membership drive in the New Year in order to get some of our older members back, hopefully we can do some more things for them. We'd like to focus on our members in 2022 and do special spotlights in The Bulletin and on Facebook, just reminding people what we do have here and what the businesses can offer to local residents."
Hoey continued, "We have some hockey tournaments back this winter. Minor hockey and the women's hockey tournament is happening in January, so we are going to be present there as well, to advertise our businesses. We are working on some flyers and stuff to be given out there. We think it's looking fairly positive."
Hoey wrapped up by adding, "We want to focus on our members and focus on doing what we can to keep the residents happy with what Sioux Lookout has to offer. I'm hoping people stay safe, and in the New Year we can get a bit back to normal again and be out and about with more social activities.
I'm really glad that people have been so safe here, I think the residents have been very good with following protocols and I thank them for supporting all the local businesses in 2020 and 2021. Thanks to everyone for supporting local. That's the big thing."