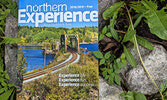 Chamber of Commerce seeking contributions for new edition of the Northern Experience Magazine
Reeti Meenakshi Rohilla -
Staff Writer
The Sioux Lookout Chamber of Commerce is looking for community input for the publication of the new edition of its long-standing Northern Experience Magazine.
Sioux Lookout Chamber of Commerce Treasurer Christine Hoey said, "Fifty per cent of the magazine is used to promote tourism, and the other 50 per cent are used for recruitment tools for larger organizations when they are trying to hire people to move to Sioux Lookout. So, the magazine originally was a specific tourism piece. And now it has, over the last, probably 10 years, it's morphed into a recruitment tool as well."
Hoey said, "We have a committee that is working to put the magazine together, hoping to go to print first part of August. So, right now we are just gathering some photos to be in the magazine and getting our editorial finished, and then we'll be selling the advertising." She said that it takes the committee about six months to put the magazine together. This latest edition is expected to be ready for distribution in September, and be in publication for about two years.
The Chamber has reached out to community members, through a post on Facebook, for local photos that they may wish to have published in the magazine. People have until June 30 to submit their images.
The Chamber also welcomes any suggestions and input that anyone may have regarding this magazine. People can submit photos and provide input at https://siouxlookout.com/ or through the Chamber's Facebook Page.
This year's magazine will be based on the theme of seasons in Sioux Lookout, Hoey shared. It will also consist of information highlighting businesses in Lac Seul and Hudson, in addition to Sioux Lookout. "Pickle Lake does not have their own publication, we usually try to give them a page or two, so they can put their information in there as well," she added.
Hoey said that the Chamber started publishing this magazine in the late 70s, essentially to promote the town for tourism. She added that the Chamber mails out approximately 6000 copies of the magazine a year, to places with potential visitors to Sioux Lookout.
"We try to do it every two years; sometimes it's every three years. Because again, the committee is volunteers, and we don't want to have a bunch of magazines left over, and with COVID and having no tourists last year, our magazine lasted a year longer than we expected," said Hoey.
The Chamber was initially approached by Windigo First Nations Council to use the magazine at one of their annual conferences as reference for a general outlook on the town of Sioux Lookout for those attending their conference, shared Hoey. She added that this sparked the idea for the Chamber to contact other larger organizations that may be looking to recruit, attending career fairs.
"Sioux Lookout First Nations Health Authority (SLFNHA), Tikinagan (Child and Family Services), Health Canada, they all attend these fairs, looking for people to come here. So, they started taking the Northern Experience Magazine to show a little more about the town. So, they weren't just recruiting them to come to work. They were saying, come to Sioux Lookout to work and this is what the town's about. It had information about what's here, for parks and trials and adventures and cultural aspects of living in Sioux Lookout, is all added in the magazine," said Hoey.
Hoey said that this magazine is produced in print, and a PDF version that is available on the Chamber's website. She added that this magazine is also a great way for smaller businesses to promote their operations.
The magazine is sent to Tourist Information Centers across Ontario, and various Chamber of Commerce offices.
"We put a lot of information about the things to do here, the festivals, any special events. We also put information about the Recreation Centre, the Cedar Bay, the trails…we also put as much information as we can about the fishing, hunting regulations and seasons…advertising for outfitters that are based in Sioux Lookout, and Hudson," said Hoey, adding, "This (magazine) advertises the community as a whole. So, we always have a big spread on the Blueberry Festival, we always have information on the Walleye Weekend tournament…any kind of shopping experiences that are going to be available throughout the year, any special days, all our farmers markets are also advertised. Normally, again, pre-COVID we used to have advertising on the trade shows throughout summer."