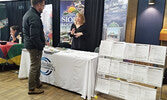 Chamber of Commerce promotes Sioux Lookout jobs in Thunder Bay
Jesse Bonello - Staff Writer
The Sioux Lookout Chamber of Commerce is working to promote job opportunities from within their business members, and those increased efforts have seen the Chamber promote at schools locally and in Thunder Bay.
"Sioux Lookout has around 200 jobs available, and there's just not enough people to work so, what we decided as a group, is that we would try to be involved with more career fairs and help our members try to find people that would be willing to relocate to Sioux Lookout to work. At first we started with the high school, which was really good, before the high school moved in to the new school. We went and spent an afternoon talking with kids…It was really motivating because the kids were really interested. It was mostly part-time jobs and things that may happen for the summer," explained Christine Hoey, Chamber of Commerce treasurer.
"The plan is to try and do another one at the new school. We just wanted to make sure they got moved over and got settled, so we will probably send our chamber staff again, I'm going to say early May, to go over and spend another afternoon there," she added.
Following the success of promoting at the high school, Chamber of Commerce President Katie Positano, along with Hoey, attended a career fair at Lakehead University, which generated a lot of student interest.
"We talked about attending the career fairs in Thunder Bay. The first one we went to was in February, and that was at Lakehead University. It was an actual career fair so, just like a tradeshow, we were a vendor with a table set up. Basically we spent the whole day promoting the job opportunities available in Sioux Lookout… We were really impressed with the feedback we got back from the students. We explained that they would have to relocate, but they were interested because they didn't seem to have as many opportunities in some of the other towns," said Hoey.
Both Positano and Hoey then attended Confederation College in March. It wasn't a career fair, but the Chamber of Commerce received permission from the school to set up a booth on campus and promote Sioux Lookout.
"They let us set up a display in the student lounge and, again, very positive. We had hundreds of the students coming to see us and talking about the jobs, opportunities, and the possibility that they could relocate," said Hoey.
There's an abundance of job opportunities, but finding a living arrangement in Sioux Lookout can be a trickier task. The Chamber of Commerce is working with the town, along with its business members, to help make transitions easier for those who choose to relocate to town.
"We've been working with the economic development office and we've been working with the town to try and come up with solutions on what we can do. We also told the employers that we did represent to consider helping them find accommodations… Everyone seemed to be open to those ideas," she explained.
Moving forward, the Chamber of Commerce is looking to continue promoting job opportunities in Sioux Lookout, and they're even hoping to branch out west to promote in Winnipeg schools as well.
"This is a benefit to the members of the Chamber of Commerce that we want to do to help them because we want businesses to be able to stay open and have extended hours, but none of that can happen without the proper staff or right amount of staff. We're doing this as a benefit to being a Chamber member, and we're hoping that some of the larger organizations will work with us again next fall and winter to, again, let us be able to represent at these job fairs. We talked about going west as well, maybe to Winnipeg to the University of Manitoba and maybe Red River College, to try and bring students from that area in to Sioux Lookout. The jobs are going to be here, for the next couple of years at least, so I think we need to promote that. We were really motivated and we were really excited about the amount of interest we got from the students," Hoey concluded.