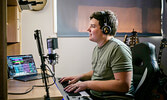 Challenge of connecting with friends during the pandemic inspires artist's new single
Reeti Meenakshi Rohilla -
Staff Writer
Sioux Lookout singer-songwriter Josh Bellingham has released a new single, 'Friendships,' capturing his thoughts on challenges to connect with friends around changed social norms during the pandemic.
"With the pandemic and everything it has been really hard to connect with friends," said Bellingham. He added, "I actually kind of poured out one day after work, I was sitting at work just doing monotonous tasks and I received a text message from one of my friends…and so I just realized that I haven't seen this guy in so long and that inspired me to sit down and, just kind of write down the resolve of I may not see this guy everyday, but I'm not going to give up the friendship that we have. Its kind of where the song comes from."
Bellingham released his new single on July 9. He said that 'Friendships' could be streamed at pretty much any music platform including Spotify, Apple Music, Amazon music, iTunes, Sound Cloud, and YouTube. Bellingham released his debut album "Sea of Lights" in 2020.
Bellingham also conduced a promotion campaign for his new single, encouraging fans to send short-form videos featuring the song to friends they have been unable to see. He also had a giveaway of merchandise and the grand prize of a gas card in an effort to channel attention to his new release.
Bellingham, an upcoming alt-pop artist said that he was introduced to his first basic guitar lesson by his father, later joining Mr. (Darcy) Legros' guitar club in grade four at Sacred Heart School. "He (Mr. Legros) started a little club and it was like an after school thing and we just started learning guitar, and from there I kind of fell in love with it. I wrote my first song in his class," said Bellingham. Bellingham added that he also played for the church. He added, "Music was something that always interested me."
Bellingham said that he is currently working on a music video for the song 'Friendships.' He said, "I've started filming for it. I'm going to get the filming done, and then the editing, and then we'll post it and promote it. And then from there I am hoping to keep releasing singles, but working towards an album basically. So it would be like a combination of singles towards an album. And I kind of want the album to talk about some struggles with mental health and then how that ties into faith."