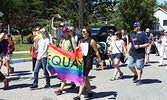 Celebrating diversity
Local residents and visitors to the community marched through Sioux Lookout's downtown on August 11 to show their support for the LGBTQ2S+ community.
The pride parade began and concluded at St. Andrew's United Church.
Following the parade, participants were treated to ice cream and freezies. Participants also had the opportunity to tie dye t-shirts.
The event was supported by St. Andrew's United Church, Sioux Lookout Blueberry Festival, the Salvation Army, Sioux Lookout OPP, Northwestern Health Unit, and Sioux Lookout GSA (Gay-Straight Alliance).