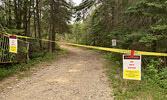 Cedar Bay trail remains closed
Tim Brody -
Editor
The Cedar Bay trail remains closed following a violent storm on June 23.
The Municipality of Sioux Lookout informed, "We are continuing to work on clearing the trees to make the various trails safer and accessible once again. Given the volume of work to be completed, we will be hiring a contractor to assist and speed up the work."
Municipal Clerk Brian P. MacKinnon said a significant number of trees came down and the damage was extensive.
"Many of the trees are caught-up in other trees, and are hanging mid-air, which adds to the danger. Another significant wind event could cause them to become dislodged and fall on the trail below," he informed.
MacKinnon added that one of the cabins at the Cedar Bay Lakeshore will likely have to be torn down and there is roof damage to another cabin.
Asked if he could provide an estimate for when the trail might reopen, MacKinnon shared, "Not at this time. We are still working with contractors, reviewing quotes, awaiting the final Report from the Insurance Adjuster, etc. – once a contractor has been hired, we will have a better idea of the timeline for having the clean-up completed."
The stable at Cedar Bay remains open for the public to visit.