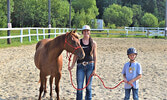 Cedar Bay stables welcomes, names new horse through social media contest
Jesse Bonello - Staff Writer
Through a Friends of Cedar Bay Facebook post on July 4, the Cedar Bay Stables welcomed a new five-year-old American quarter horse mare to their herd. In the same post, the Cedar Bay Stables offered a naming contest, with a chance to win a free pony ride with the new horse.
Teresa Wood and her daughter Emily won the naming contest and the free pony ride with the newly named Nala but, because they live in southern Ontario, the two decided to donate their pony ride to a local Sioux Lookout family.
"A friend of mine who lives down south won, so she donated it to us," said Rebecca Tibbs-Burnard.
Merrick Tibbs-Burnard and his younger brother Connor had their pony ride on July 23. Due to soreness, Nala wasn't fit for riding, but the brothers still had the opportunity to ride a pony named Lightning. Both Merrick and Connor shared that they had a great time riding Lightning and they enjoyed getting to meet Nala as well.
When it came to choosing the winning name, the Cedar Bay Stables shared that they came up with a pool of seven names from the 46 contest entries. From there they kept filtering through the names until they decided on a winner.
"We decided on it as a group, so everybody picked a name that they personally liked first, then we threw that into a pool, and then we just did it by process of elimination… Then we just kept narrowing down the list until we found something that we thought suited her," said Destiny Pryzner, Cedar Bay co-chair.
When asked about getting just under 50 contest entries through the Facebook post, Pryzner shared that she didn't expect the contest to gain as much community interest.
"I didn't. I was quite excited to see how many people were interested in entering. It was nice to see the community come together for something like that," she said.
The Cedar Bay Stables is encouraging the community to visit the stables and say hello to Nala, who is located in the farthest paddock at the end of the alley on the left hand side.