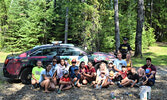 Cedar Bay Day Camp hosts OPP as special guest
Jesse Bonello - Staff Writer
Cedar Bay Day Camp welcomed OPP Constable Andrea DeGagne on July 25 as a special community guest. Campers had the opportunity to paint DeGagne's OPP cruiser, get handcuffed, and operate some of the cruiser's horns and sirens.
As part of their weekly and daily programming, Cedar Bay Day Camp tries to feature a special guest each week. The programs specialize in nature, arts, physical activities, creative thinking, and problem solving.
"We do a lot of team building activities, as well as leadership activities for the older kids. We spend most of our days outside, and we do a lot of swimming in the afternoons. We spend most of our time outside playing games, while giving the older kids some leadership roles. We also spend time in the art cabin, and we have special guests every week. This week was the OPP, next week will be Blueberry Bert, and last week was the MNR," said Sydney MacDonald, Camp Director.
Last week campers enjoyed an Under the Sea theme, which featured plenty of water programming. Coming up, campers will be enjoying some of what the Sioux Lookout Blueberry Festival has to offer.
"So this week we had undersea, so basically a water week. We did canoeing, paddle boarding, and we had some beach obstacle courses. We also had someone come down and talk about the live species in the water. It's a combination of learning and making it fun," said MacDonald.
"We have a Blueberry Festival week coming up, so we're going to go to some Blueberry Festival events and Blueberry Bert is going to come down too," she added.
For more information or to register for Cedar Bay Day Camp, contact the Recreation & Culture Department at 737-1994 or [email protected].