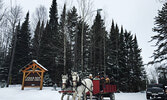 Cedar Bay a 'jewel' of wellness for the community
Reeti Meenakshi Rohilla -
Staff Writer
Throughout the COVID-19 pandemic, the importance of exercise for both physical and mental health has been continuously promoted by health officials.
Ontario remains under a state of emergency with a stay-at-home order in place with exceptions being going out for essential purposes such as work that cannot be done from home, grocery shopping, going to the pharmacy, and getting out for exercise.
Recently, Sioux Lookout resident Howard Lockhart, who was instrumental in establishing the Cedar Bay Outdoor Recreation Complex in Sioux Lookout, expressed his joy on social media at seeing the trails at Cedar Bay serve as an important exercise hub for the community. Lockhart shared in a Facebook post last month that he had noticed people engaging in a wide variety of activities on the day he visited Cedar Bay.
He shared, "Cedar Bay has given life to the trail activities at the facility. People have some place to go to get out of the house. This, of course, has given me great satisfaction. More than anything, seeing the activities taking place is even more satisfying. Our trails and trail activities are one of the activities that have grown. There is a Cedar Bay Trails Committee. Since the days in 1996 when I left, they have added a completely new trail activity, fat biking. Ski trails have been widened to permit skate skiing. There seems to be more snowshoeing now than it was in the nineties."
Cedar Bay has been a hub of entertainment and activities in the community of Sioux Lookout for over 40 years now.
Friends of Cedar Bay Chair Bobbi Roberts shared, "A huge part of my job as a Nurse Practitioner is to help guide people to wellness, and to help them reach their health goals. Not to sound cheesy, but, there is one 'prescription' I keep coming back to again and again: go outside and spend time in nature." She added, "Whether we're trying to avoid nearsightedness in children (did you know being outside stimulates the eyes in a way that keeps them functioning tip-top?), or foster in our children a healthy respect for the planet or just protecting ourselves through exercise or keeping the wiring in our brain switched to 'happy' through, well, the beauty of nature - Cedar Bay welcomes all."
The Municipality of Sioux Lookout owns the Cedar Bay property. A portion of the property is leased to the Friends of Cedar Bay, a not-for-profit entity for their equine activities and to board horses.
Joyce Timpson, Vice-Chair of the Friends of Cedar Bay, said that she thinks it is an absolute jewel of a resource to have Cedar Bay offer free, outdoor experience to people, and is a beautiful setting. She added, "It's a very valuable resource for the health, economic and social aspect of our town."
Activities that Lockhart noticed people enjoying, included cross-country skiing, snowshoeing, fat biking, horseback riding, dog walking, mothers pulling their children on small sleds and people out for a walk. Pre-COVID, Cedar Bay would host activities and events such as Cozy Cabin Saturdays, a Water Festival, a Frog Hop, an Owl Prowl, nature walks, pony rides and eco-assisted learning.
Previous to 2020, the Municipality of Sioux Lookout operated a program called Cedar Bay Camp that provided day programs for children in Sioux Lookout.
"Due to the pandemic, we were forced to cancel the program for 2020 and 2021. The camp provided all kinds of outdoor activities for the youth of Sioux Lookout. Some children attended all summer while others attended for shorter periods of time," the Municipality of Sioux Lookout informed.
"Pre-pandemic, we would allow activities to take place on the property which included bon fires and rental of cabins for birthday parties, as examples. People also go on the walking trails," the Municipality added.
Cedar Bay Board Member Ryan Jung said, "It'll take you five minutes from your house and you can be in the middle of the bush, middle of the woods and just get away from everything. That's the one thing that I have been hearing from people is just how thankful they are to be able to have Cedar Bay and the normalcy that it brings, in these otherwise troubling times." He added, "I'm very thankful for all the support we've got this year and the support that Cedar Bay Trail Co. has received from the community over the past years since we started this, and we hope they keep providing some good trials for people and like seeing everybody out there."
Beth Dasno, an outdoor education teacher at Sioux North High School, said that the students make great use of the facility for activities such as canoeing and outdoor survival training.
"All seasons, students at the high school are able to access the place and get exposed to it, so hopefully, they can continue being users and supporters in their adult lives," she said.
President of the Nordic Nomads Cross-Country Ski Club, Ron Laverty, said that it is a pleasure continuing to be able to use the facilities at Cedar Bay throughout the pandemic. He shared, "We partner with Cedar Bay and one of our trial heads is at the riding stable and we use the parking lot there to access our trials. We're also planning on building a storage facility there for our grooming equipment. It's going to be out at the Cedar Bay riding stable."
Dasno said that she thought of starting Cozy Cabin Saturdays as a destination place for families with young children, people walking their dogs, snowmobilers, cross-country skiers, to stop in and warm up by the fire with a warm drink.
Roberts shared that the Friends of Cedar Bay has an overarching goal of not just providing events and services, but of revitalizing and preserving the area so it can be there, at its fullest potential, for generations to come. She added, "With a full roster of volunteers and great respect for all user groups, it is amazing to see things come together."
Roberts shared, "There is a saying that goes something like, "anxiety is just excitement without breath." I don't know about you, but during this past year I've had a lot of breathless excitement. And so, I find a way to drift down to Cedar Bay and look at the horses, wave to a friend, or study the sun through the leaves. And I can breath again. Hope to see you out there."
Timpson said that Cedar Bay strictly relies on donations, doing its own fundraising from the public and other local organizations, along with access to some small government grants.
Anyone looking to donate could email transfer to [email protected] or go to Cedar Bay's website at cedarbay.org to donate via a PayPal account. People are also encouraged to donate a minimal amount to get on the membership list.