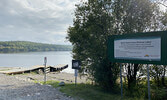 Caution urged at municipal boat launches
Tim Brody -
Editor
Due to low water levels, the Municipality of Sioux Lookout is cautioning local and visiting boaters to be extra cautious when launching from and approaching municipal boat launches.
"Underwater obstructions may now be shallow enough to cause damage to hulls or motors if you're not careful," the Municipality of Sioux Lookout advised in an August 24 news release, adding, "Please ensure the water is deep enough for the draft of your boat before launching to avoid potential damage to your hull or motor."
According to the Municipality, Recreation and Culture Department staff are monitoring the situation and posting caution signs as necessary.
The Municipality is also reminding boat launch users that these access points to local waterways are to be used at boater's own risk.
With water levels on area lakes near or below historic lows, the Municipality is advising boaters to, "Please use extra caution on our area lakes, as low water levels expose underwater hazards that may not be well known under normal lake levels, and always wear your PFD when on the water."