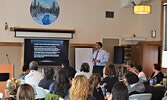 Awareness forum sheds light on human trafficking
Jesse Bonello - Staff Writer
As part of Victims and Survivors of Crime Week across Canada (May 26 to June 1), Sioux Lookout and area community members, agency representatives, and OPP representatives attended a Human Trafficking Awareness Forum on May 30.
The forum, which was hosted by the First Step Women's Shelter at the Nishnawbe-Gamik Friendship Centre, featured guest speakers Leona Skye (survivor/advocate), Keewatinung Kwe (survivor/advocate), Shauna Pitawanakwat (liaison/program coordinator for Family Information Liaison Program), and Detective Constable Scott Chalkley (Kenora OPP).
"I applied for money and got funding to hold this event. Human trafficking is the big thing, and child exploitation, so that's where I went with it," said Tana Troniak, First Step Women's Shelter executive director.
"My goal for all of this is to bring agencies together so that when we do meet someone that's been human trafficked we have a community approach on how we're going to service her or him. That's the goal, and then we all work together as a community to keep her safe, to keep him safe, and to provide whatever they need," she explained.
When asked about the importance of the forum and information that was shared, participants agreed that the statistics and stories need to be shared in order for there to be change.
"It's been a very productive day… These organizations need to hear that something needs to be changed, so it's bringing the stories up that really need to be discussed, which is good. Hopefully they're landing on ears that can listen and make a difference," shared Sioux Lookout OPP Constable Andrea DeGagne.
"I think it's very important that these issues aren't sugar-coated… It can't be sugar-coated because it's a lot more prevalent in these northern communities than people realize," said survivor Keewatinung Kwe.
"It was beneficial for my own healing journey. It encouraged me to keep speaking because if I can change the life of one child, or one woman, than it makes it worth it," said Kwe.
DeGagne shared that there's potential for it to become a bigger issue locally because of the vulnerability of northern youth who attend local schools away from their families and communities.
"The way our location is, we have 31 northern communities bringing their students in for high school. They're away from their families, they're away from their supports, and they're alone in Sioux Lookout. It hasn't been a prevalent issue yet, but it's got the potential to be huge because you have these people who are away from everything they know and they're isolated making new contacts, new connections, and they're trying to find a new life for themselves… When they're branching out into this new world you need to let them understand that there are dangers associated, so it's not just opportunity. There are dangers involved. I hope that people see that this is a very vulnerable population that we're dealing with, and they're putting them in a vulnerable situation," explained DeGagne.
Down the road, Kwe is hoping to see an increase in survivor-led programming and platforms to help improve success rates in dealing with human trafficking.
"I feel it's very important to provide a platform for survivors and what I would like to see in the future is more survivor-led programming… I hope to see more of that in the future to break down those walls to provide better communication between organizations to create a better chance of success in dealing with these issues within our communities," she said.
Participants agreed that the continued spreading of knowledge and awareness on the issue is needed in order to improve safety and expose what's happening.
"Safety is key. Knowledge and education are a great way to put a stop to what's going on or shed some light on what's going on if there are bigger issues that we're not seeing right now," said DeGagne.
"I think we need more awareness and education… I hope this event brings more awareness and I hope we have a community approach within this. That's really the goal," Troniak concluded.