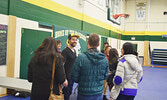 Audience members enjoy blues duo during first Entertainment Series show of 2019
Jesse Bonello - Staff Writer
The Harpoonist and The Axe Murderer played the first Sioux-Hudson Entertainment Series show of 2019 on Jan. 13, and many agreed that they didn't disappoint.
"I thought it was really good. I really liked the sound…I appreciate the multi-talent," said Ian Salter
"The sound was kind of authentic, but at the same time unpredictable. It was good music," shared Michela Salter
"I loved the raw harmonica. It was so nice," said Beth Dasno.
Made up of Shawn 'The Harpoonist' Hall, with his vocals and harmonica, and Matthew 'The Axe Murderer' Rogers, with his electric guitar and foot percussion, the Vancouver based blues duo won Breakout Artist of the Year at the West Coast Music Awards in 2017. They were also nominated for Entertainer of the Year, Harmonica Player of the Year, and the Recording/Producer of the Year at the 2018 Maple Blues Awards.
Their bio reads, "The Harpoonist & The Axe Murderer are relentless touring artists known for their high-energy, sweaty, dance-floor-boogying performances. They have recently toured the UK with St. Paul & The Broken Bones, the EU with Dr. Dog and XIXA and the US with Tinariwen. They have also shared the stage with Taj Mahal, Booker T Jones, Mother Mother, The Sheepdogs, and Serena Ryder and have played their fair share of festivals including: Winnipeg Folk Fest, Ottawa Blues Fest, Calgary Folk Fest, Montréal Jazz Fest, Vancouver Jazz Fest, Festival D'Été de Québec, and Regina Folk Festival."
Sioux Lookout kicked off a month-long tour of Ontario that, from here, goes through Dryden, Red Lake, Kenora, Fort Frances, Atikokan, Thunder Bay, and Toronto. Joining them on tour is special guest Andrina Turenne, who is a singer, songwriter, and musician born and raised in St Boniface, Manitoba.
When asked about the Ontario tour starting here, Shawn Hall shared that it wasn't his first time being in Sioux Lookout.
"I was here when I was 18. The first time I took a train across Canada I had a bicycle and the first stop that I jumped out after Toronto was here. All I remember was float planes, mosquitoes, and rain…The last time I was here was 25 years ago," he explained.
It was evident that the crowd enjoyed their music between the contagious head-bobbing, feet-tapping, roaring applauses, and a standing ovation. The duo agreed that they enjoyed the Sioux Lookout crowd and the different, but positive, reactions.
"That's what we're after. Everywhere from bobbing your heads to getting up and dancing like a crazy monkey. That's the span of reactions, and anywhere in-between that is great. It's also great to just sit there and quietly enjoy yourself," said Matthew Rogers.
"When you come to smaller communities, people appreciate you a lot more than the big cities… Gigs like this, and everywhere in-between, are fantastic," Hall concluded.
Their music is available on Spotify, iTunes, Apple Music, and Amazon.
The next Sioux-Hudson Entertainment Series performance is on Feb. 5 when acoustic guitar duo Don Ross and Calum Graham come to town.
To see the remaining Entertainment Series schedule, go to siouxhudsonentertainmentseries.ca.