Ask An Officer
Provincial Constable Andrea Degagne
OFF-ROAD VEHICLE RULES OF THE ROAD
The Sioux Lookout Ontario Provincial Police (OPP) have recently responded to multiple complaints of Off-Road Vehicles (ORVs), including ATV's and dirt bikes, being illegally operated in our community. Based on the safety concerns identified through investigation, officers would like to remind motorists of the rules for ORV operation, based on the Off-Road Vehicles Act, R.S.O. 1990, c.o.4 (ORVA), The Highway Traffic Act (HTA) Ontario Regulation 316/03 Operation of Off-Road Vehicles on Highways (O. Reg. 316/03), as well as Sioux Lookout's ORV bylaw (bylaw 88-15).
Although there are leniencies for operation of ORVs on the owner's private property, for an ORV to be operated anywhere off private property the driver must be at least 12 years old or directly supervised by an adult. The driver and any passengers must be wearing an approved helmet with chinstrap fastened, and the vehicle must be registered and insured with a license plate visibly attached. Proof of registration and insurance must be carried with the driver. Criminal Code driving offences such as Dangerous Driving and Impaired Driving are applicable no matter where the ORV is being operated, as are the Cannabis Control Act, Liquor License Act, and Smoke Free Ontario Act, which restrict the transportation and consumption of alcohol and marijuana.
To operate an ORV on a roadway, including crossing a roadway or driving along a shoulder, ditch line, alleyway, general use trail, backroad, or public forest road, the driver must be at least 16 years old and be carrying a valid G2 or M2 license. ORV's being operated on a roadway are required to follow the rules of the road, travelling in the same direction as road traffic and staying as close to the right edge of the roadway as can be done safely. ORV's are further restricted to travel at a maximum of 20 km/h on roads with posted speed limits of 50 km/h or less, or 50 km/h on roads with a higher posted speed limit. Stunt driving regulations also apply to ORVs, and infractions can result in the driver having their driving license suspended.
Passengers can only be carried in a seating position designed to be used by a passenger, and if the ORV is being operated on a roadway (or alley, shoulder, ditch line, public forest road, etc..), the passenger must be at least 8 years old. An ORV can tow a trailer with a passenger while operating off-road, however, passengers cannot be in the trailer while the ORV is operated on or crossing a roadway.
Sioux Lookout's ORV bylaw allows for ATVs, side-by-sides and UTVs to operate on roadways and most trails within the Municipality if the operator follows all other applicable legislation. This includes all speed, noise, and parking restrictions. ORVs are restricted from driving or parking on sidewalks, Municipal recreational trails (Umfreville Trail, Cedar Bay Trail), Municipal parks, beaches, cemeteries and other Municipal properties, as well as other privately operated locations including school grounds.
For more information about safe ATV operation, please visit the OPP website at www.opp.ca, as well as the Smart Ride Safe Ride ATV/ORV Handbook, available online at www.mto.gov.on.ca.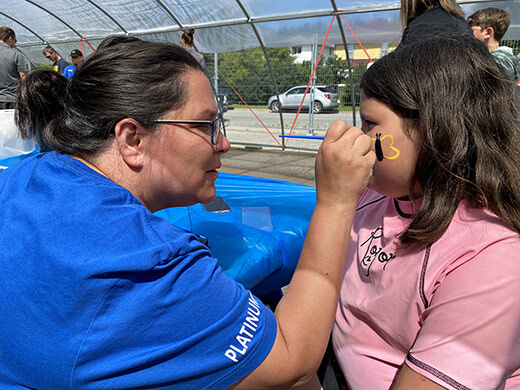 Tuesday, August 16, 2022
Community members and visitors to town stopped by Fresh Market Foods on August 6, during this year's Blueberry Festival, for a BBQ, face painting, kids games, and a magician show.