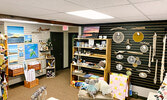 Artists can curate their work at local coffee and gift shop
Reeti Meenakshi Rohilla - Staff Writer
The Good News Books store is offering a platform for local artists to display and sell their work. Heidi Weaver, the manager at the store said, "We're encouraging everyone to support local businesses during this time. So that's part of supporting our business, but it's also supporting the people in our community. It's been a rough year for everybody and we're hoping that this can be a way to bring some joy to the community."
Initiated Sept. 28, the idea of the initiative is to provide an opportunity for local artists to showcase their talents. "It was something that we wanted to do, to try to encourage people to support and shop local this Christmas season. Also with the COVID, we weren't sure if the typical markets would be happening, but we knew that there're a lot of talented people in the community," said Weaver.
She explained that due to space limitation, the products will keep changing over time and each vendor will be responsible for restocking their display, as they sell. "Things will be changing throughout the three months they're up until Christmas here. It's definitely going to be one of those things where you see something you want, you better grab it, as it probably won't be here again," said Weaver. She added that they would be bringing in new vendors as the need for space that a vendor has eventually shifts.
Interested artists may get in touch through the store's Facebook and Instagram Pages. "We are pretty much maxed out with space at this point. So we are creating a waiting list. We are limited in space and so we are going in order of the people who enquired first," Weaver said. She explained that artists added to the waiting list will be contacted when space is available.
Weaver mentioned that they have a facemask policy for anyone coming to the store with sanitizing stations available. She added that, upon request, they could take photos of items, and share with anyone interested in purchasing.
"We're really excited to partner with people and just showcase the talent and the entrepreneurship of the people in the community. We're excited about it and are grateful for the way people have responded and are excited with us. At this point we're planning to do it just for the Christmas season. This is something new for us. So we're just trying it out and seeing what the community response is. If it's successful, which we hope it will be, it could be something that becomes a regular occurrence," Weaver concluded.