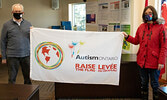 April 2 observed as World Autism Awareness Day in Sioux Lookout
Reeti Meenakshi Rohilla -
Staff Writer
Sioux Lookout Mayor Doug Lawrance proclaimed April 2 as World Autism Awareness Day in the Municipality of Sioux Lookout to raise awareness about Autism Spectrum Disorder (ASD). The flag for Autism Ontario's Raise the Flag Campaign was hoisted at the Sioux Lookout Municipal Office.
"Awareness is key, so that people can recognize signs and then have early intervention," said Lawrance. "Autism affects all ethnic and socioeconomic groups, with boys being four times more likely to be diagnosed with autism than girls. The possible causes of autism are still far from understood," he shared in his proclamation.
Autism Ontario shared on its website about the Raise the Flag campaign, that the simple act of raising a flag unites families, schools, communities, government and professionals in recognizing World Autism Day. It celebrates autistic people while bringing to light the systemic barriers that must be removed to create a more supportive and inclusive Ontario for them.
Lawrance shared in his proclamation that ASD is a spectrum disorder, which means it not only manifests itself differently in every individual in whom it appears, but its characteristics change over the life of the individual as well. "A child with ASD will become an adult with ASD." He added, "Early intervention affords the best opportunity to support healthy development and deliver benefits across the lifespan."
FIREFLY representative Andrea Dick also joined the flag raising ceremony.
FIREFLY shared in a news release that flags were raised on April 1 at City Hall in Kenora, Red Lake, Sioux Lookout and Dryden. The ceremonies aim to bring awareness to the triumphs and struggles of those on the Autism Spectrum, to highlight the amazing work that is taking place, and the work that still needs to be done to support autistic children, youth and families.
FIREFLY explained in their news release that autism, or ASD, refers to a range of conditions characterized by challenges with social skills, repetitive behaviors, speech and non-verbal communication, as well as by unique strengths and differences. It further added, "FIREFLY is proud of the work that we do to support children, youth and families with autism. We're also proud of our clinicians and the amazing children that they work with."
FIREFLY is a multi-service agency that actively participates in supporting and strengthening the health and well-being of children, youth and families, and communities across Northwestern Ontario. They offer Autism specific, paid services for families. Further information regarding their autism specific services and events can be found on FIREFLY's social media, or website at
http://www.fireflynw.ca.
People can watch Mayor Lawrance's official proclamation of World Autism Awareness Day in Sioux Lookout at https://youtu.be/hKfxpaafAHg.