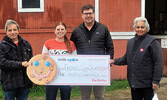 Another successful year locally for Tim Hortons' Smile Cookie campaign
Mike Lawrence -
Staff Writer
The numbers are in, and it was another great year in Sioux Lookout for the Tim Hortons' Smile Cookie campaign with proceeds raised locally supporting the Friends of Cedar Bay. Totals this year were just shy of last year's total, with this year's sales reaching $9,024 compared to last year's total of $9,600.
This year's sale was not without its challenges. Nazli Sharma, General Manager of the William Kent Group which operates the Sioux Lookout Tim Hortons franchise, explained, "This year we had a tremendous challenge with staffing in Sioux Lookout, so the Kents allowed myself and one other team member to come up, and we stayed at West Point Cove, and that became "cookie central". With the very kind and generous auspices of Bill and Susan Hochstedler, it was a marvelous thing to do. The community came and of course we observed all COVID (protocols), COVID stations just as you come in, hair nets, hand washing, and we had our food safety certificate. Normally northern communities are supporters as well, but there were restrictions on what could go up, so we didn't have that this year. I think we would have done a lot better, not that we didn't do great!" As for this year's support, Sharma added, "I think the support was there, the interest was there, but it's nothing without the work that (Friends of Cedar Bay) themselves put in. Each store has a charity that they raised money for and you can see, just looking at the numbers from some stores, the amount of effort that goes in."
Sharma stated that totals this year across the country were higher than last year's totals. "This year nationwide 12.4 million dollars was raised for charities that are in their communities. So Sioux Lookout's money stays in Sioux Lookout. Thanks to the generosity of the owners and Tim Hortons." Last year, the Tim Hortons website reported a record total of $10.56 million raised.
Mike O'Brien is one of the Smile Cookie campaign's main organizers for the Friends of Cedar Bay. He felt this year's results were good despite some setbacks, stating, "This year was a good, yet challenging one, with the weather not cooperating, a power outage and the (Tim Hortons) debit machine going down. The community still came forward in a big way to help maintain Cedar Bay Stables. The people of Sioux Lookout can continue to enjoy the horse programming and all that it brings. A big thanks to the staff of Timmies, all the volunteers that were there, and the community of Sioux Lookout for all their support."