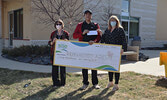 Another Sioux Lookout winner for SLMHC Foundation 50/50 Charity Draw
Reeti Meenakshi Rohilla -
Staff Writer
Sioux Lookout resident Ralph A. Raspado took home the Sioux Lookout Meno Ya Win Health Centre (SLMHC) Foundation's May jackpot of $25,648.
"It's an honour to win this amount of money because I have been buying the tickets all over Ontario, and it is actually finally happened right now that I am the one who took the prize. Of course, I would like to thank the Foundation, the 50-50 charity, and I will continue to support it," said Raspado. "I will use this to probably help me pay my debt and of course do some renovations on my place," he added.
SLMHC Foundation Treasurer Rita Demetzer said, "I think the odds are certainly better than playing with the national lotteries, and overall, it appears that certainly the odds of winning for Sioux Lookout seem to be quite good, for five out of the six (SLMHC Foundation 50/50 Charity Draw winners) have been from Sioux Lookout." She added, "If you want to help out the hospital, enter our 50-50 draw."
SLMHC Foundation Chair Christine Hoey shared her excitement to see the money stay within the community, with yet another Sioux Lookout resident winning the jackpot. "We just want to remind everybody to mark their calendars to buy their tickets for the next one because like Rita said, we've been really lucky where five of our six winners have been based in Sioux Lookout, after they have supported our hospital," she said.