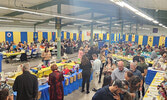 Annual Lobsterfest set sail an evening of fundraising hosted by the Rotary Club of Sioux Lookout
Staff Writer - Andre Gomelyuk
Sioux Lookout's 18th Annual Lobsterfest was held Friday, September 30, hosted by the Rotary Club of Sioux Lookout. The age of majority fundraising event included dinner, drinks, and a fun social atmosphere at the Sioux Lookout Golf and Curling Club. The Rotary Club held a 50-50 draw, penny auctions and silent auctions during the evening. Susan Barclay, a member of the Rotary Club, expressed thanks to the Sioux Lookout Bombers for their help setting up tables the night prior, preparing lobsters, and helping clear tables after the event. Bombers defenceman Nolan Palmer shared, "I just want to help out making a good impact onto the community." Carson Johnstone, Sioux Lookout Bombers Head Coach, was also at the event with extended family and shared, "It's a great new experience for me. I am having lots of fun."
An award for best decorated table went to Team Titanic, who decorated their table to look like the Titanic ship. The table décor included life jackets on seats. Members dressed in period attire.
Team Titanic member Sheila Suprovich, who was attending Lobsterfest for the third time, shared her thoughts on winning, "It feels great. We had some craft nights getting together. The dinner was delicious, it was great meeting everyone. We put a lot of effort in and I'm glad it came out really good." The winning table was the first to get their lobsters.
The event had a better-than-expected turnout organizers said, with more than 220 people attending. Three batches of over 500 lobsters were cooked throughout the night in a special homemade boiler loaned from the Rotary Club of Kenora, that was brought specifically for the event.
The Rotary Club also prepared over fifty racks of ribs as an alternative meal option. The dinner consisted of two large Atlantic lobsters drawn with butter and lemon. The dinner also came with tossed salad, dinner rolls, baked potato and fixings.
Proceeds from the evening will go to local and international Rotary projects.
Tuesday, October 4, 2022
The top four finishers in the Sioux Lookout Golf and Curling Club (SLGCC) championship and the top four finishers in the Eagles Landing Golf Course (Eagle's) championship went head-to-head in the first ever 72 Cup on Oct. 1 at the SLGCC.