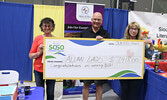 Allan Lago claims July 22 SLMHC Foundation 50/50 prize
Tim Brody - Editor
Longtime Sioux Lookout resident Allan Lago was the lucky winner of the July 22 Sioux Lookout Meno Ya Win Health Centre (SLMHC) Foundation 50/50 jackpot, a prize worth $7,418.
Lago said he's happy to support the Foundation and plans to defer to his wife on how the prize should be spent.
"Al's Sports Excellence is celebrating 50 years of business in 2022, and Lago has recently retired, passing the torch to his boys while maintaining some involvement with the family business," the Foundation shared on its website, adding, "All lottery proceeds help with the enhancement of local, quality health care."
Foundation Treasurer Rita Demetzer stated, "We're always pleased with the participation and support of Sioux Lookout and Northwestern Ontario and the rest of the province. We definitely appreciate it."
With Sioux Lookout's Blueberry Festival running from July 29 to August 7, Demetzer shared, "Get your tickets for the next draw because we have Blueberry special of all kinds!"
Further details can be found, and tickets and be purchased, at https://foundation.slmhc.on.ca/.
Tuesday, July 26, 2022
The Sioux Lookout Bombers are looking for billet families for the upcoming season...