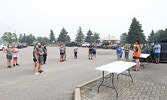 4th Annual Epic Car Scavenger Hunt
Twenty teams of two drove around Sioux Lookout completing scavenger hunt challenges within a two hour time limit on the evening of August 3 in this year's Annual Epic Car Scavenger Hunt.
Teams collected points based on the difficulty of the challenges.
The winners of the 4th Annual Epic Car Scavenger Hunt were Savannah Kirton and Hilary Cameron, who also won the previous year's event.
The runners up were Jade Beaulne and Quinn Shroeder.
"We would like to thank every team who participated this year and we look forward to running this event during the 40th Blueberry Festival. Special thanks goes to our event sponsor, Sioux Lookout Home Hardware Building Centre, for providing a great prize for the winning team," shared Sioux Lookout Chamber of Commerce executive assistant / travel information centre supervisor Kayleigh Bates.