40th Annual Blueberry Festival underway!
(First Photo) Kenora MP Eric Melillo, (Second Photo) Kiiwetinoong MPP Sol Mamakwa, and (Third Photo) Sioux Lookout Mayor Doug Lawrance brought greetings during the opening ceremonies of Sioux Lookout's 40th Annual Blueberry Festival.
(Fourth Photo) The trio helped cut a ribbon to officially open this year's festival, along with members of the Blueberry Festival Committee and Allan Pizziol (standing centre), who along with the late Marnie Hoey and the late Dick Davidson, founded the festival.
(Fifth Photo) The trio of dignitaries later helped Sioux Lookout resident Althea George serve cupcakes she prepared for the opening ceremonies. George has prepared cupcakes or cakes for the opening ceremonies for many years.
(Sixth Photo) Hot Mess lent their musical talents to the opening ceremonies.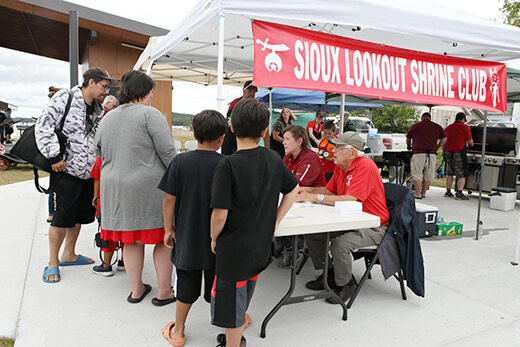 Tuesday, August 2, 2022
Hotdogs, hamburgers, fries and fudge were sold at the Town Beach on July 29 by members of The Sioux Lookout Shrine Club. Proceed will go to the Shrine Travel Transportation Fund...