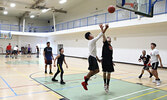 3 on 3 Basketball Tournament
Eight teams, approximately 40 players, participated in this year's 3 on 3 Basketball Tournament, held on August 7 at the Sioux Lookout Recreation Centre.
The team of Justin Poling, Mike Kreisz, Steve Roberts and Tyler Paulsen won the tournament, which was held during Sioux Lookout's 37th annual Blueberry Festival.
The event raised $200 to support Sioux North High School's athletics programs.