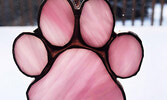 2020, a charitably supportive year for Sioux Looks Out for Paws
Reeti Meenakshi Rohilla -
Staff Writer
Sioux Lookout's animal rescue, Sioux Looks Out For Paws thanks the community for the support they have provided during the pandemic. Chair of the Board for the organization, Lynda Ducharme said, "A lot of people don't realize how much work is involved with the rescue. There's a lot. Not just going out and getting the animals. But it's also the animal care, while we have them. So, sometimes fund-raising on top of that really overloads it. It's really nice when the community takes initiative and does that. We really appreciate it."
The rescue's last donation in 2020 was an endeavor undertaken by a local family, where they made stained glass paw prints and sold them on the Sioux Lookout Buy and Sell page. Jenna Poirier, who helped raise donations along with her family, shared, "The rescue has always been a huge part of the community and with COVID happening, we knew that they've been having difficulty fundraising… There are a lot of great people involved there that do a fantastic job keeping the rescue going. Over the holiday season we had a lot of free time and stained glass was something that we've done in the past as a family, so we thought why not help them out how we can, while doing a family project?"
The family started making the stained glass paw prints on Boxing Day, listing them online on December 29 until December 31, raising approximately $780. Poirier shared, "They took off, so we made some more in that time period and posted as they were finished. We didn't expect that kind of response, especially after Christmas. We sold 35 over the three days." Ducharme said that the Stained Glass Fundraiser was very well done and that people were still asking to buy more.
Poirier shared, "We've always been animal people and have been to multiple PAWS events, so it seemed like a win-win. I think that it's more important now than ever to support local and to acknowledge that, although it might be a bit obscure, that there's always a solution to the problem. In these times if you're in a good enough position then you should try to help others out. If not, then there's no shame in accepting a bit of help."
Ducharme appreciates all the contributions from the community, helping them to serve better. She shared that there are several local schools that make contributions, as well as other private groups and unions that help fundraise. However, some of the rescue's major fundraisers like Chili Lunch, barbecues, and the rescue walk, were unable to take place last year.
Two of last year's major fundraisers were the Online Yard Sale and the selling of masks. Both of the fundraisers were able to raise about $15,000 each. Ducharme said, "That was a record last year, because a lot of people donated stuff to the online yard sale, and because of COVID, we're able to sell the mask, so those are not usual years, for sure. We've been really fortunate that those two things happened during COVID."
Judy Henrickson's annual Christmas lights display was also a great contribution towards the rescue. Henrickson, who has been a volunteer at the Sioux Looks Out For Paws animal rescue for over three years now, gave any donations received from people stopping by to view her display, to the animal rescue. She was able to contribute $3127.70 to the organization this season.
Ducharme shared that the rescue was also able to raise some money through the Online Christmas Market last year. She added, "Definitely anything helps us. We appreciate all donations. Sometimes, you know, the little ones add up and they all help to take the pressure off, having to find ways to fundraise It allows us to do more rescue work, which means more animals saved." Anyone looking to donate can contact Sioux Looks Out for Paws via Facebook at Sioux Lookout Rescue.