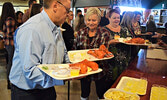 15th annual Rotary Lobsterfest packs the Golf and Curling Club
Jesse Bonello - Staff Writer
Over 300 people filled the Sioux Lookout Golf and Curling Club for an evening of enjoying lobster, ribs, and dancing during the 15th annual Lobsterfest, which was held by the Rotary Club of Sioux Lookout, on Sept. 28.
For the past decade-and-a-half, Rotary Lobsterfest tickets have been in high demand. The Rotary Club of Sioux Lookout shared that tickets are highly sought after every year.
"We sold 324 tickets… It seems to be getting bigger and bigger all the time. There's still a demand for tickets, but we decided that we would stop at 324 tickets because the hall is only so big and it would take forever to feed them. This is a manageable number… The first time we did it we sold 160 tickets, and now we're up to double that," said Rotarian Arvid Hakala.
"There are some people who have been coming to Lobsterfest every year, and this is our 15th year. It's probably one of the biggest dinner and dances," Hakala added.
Along with enjoying plates full of lobster and ribs, those in attendance had the chance to leave with prizes through auctions and draws.
The Rotary Club of Sioux Lookout thanked Sioux Lookout and area community members for their continued support for the annual Lobsterfest. They also thanked the Rotary Club of Kenora, who provide the lobster steamer.
Hakala said the Kenora Lobsterfest inspired the annual Sioux Lookout event.
"I started it back 15 years ago. Myself and Lorenzo Durante went to Kenora Lobsterfest and got the idea. We went there a couple times, helped them with theirs, and we still help the Kenora people with theirs and they come here with their steamer. If it wasn't for them bringing that, we wouldn't be able to do this," said Hakala.
To stay up to date on projects and initiatives being spearheaded by the Rotary Club of Sioux Lookout, as well as upcoming events and club information, visit the club's website (https://portal.clubrunner.ca/992).