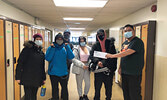 School News:
Sioux North class donates to the Out of Cold shelter
It takes so little to do a generous act of kindness for your community.
On November 24th, students from the Grade 11 entrepreneurship class at Sioux North High School donated a $300 cheque to the Out of The Cold shelter in Sioux Lookout.
The entrepreneurship class raised the funds over time with small pop-up shops, where they sold food and drinks to the staff and students at the high school.
Near the end of the term the students voted and decided to donate their profits to the Out of The Cold shelter.
Staff at Out of the Cold were grateful for the donation and shared that the funds will be put towards the soup and lunch programs.
Written by Ethan Neekan, Gr. 11 student at SNHS

Submitted by Beth Dasno, Entrepreneurship teacher, SNHS