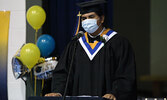 PFFNHS Valedictory Address
Thunder O'Keese / Valedictorian
Good afternoon respected guests, friends, family, staff and fellow graduates.
My name is Thunder O'Keese and I am absolutely honoured to be speaking on behalf of the 2021-2022 graduating class. I would like to thank each and every one of you for attending this ceremony.
Graduating is a time of reflection for me and my fellow graduates. It is also a time of reflection for the parents and guardians that were with us every step of the way.
From when we were kids all the way to now I would like to thank our parents and guardians for never giving up on us.
From our first time leaving the nest and coming here for months at a time, I'm sure it was hard for us both.
It is also a time for us to say goodbye to the teachers that taught us from grade 9 all the way to our graduation. Thank you all for being with us.
This is my advice to future students and to the next graduates.
There were many times during high school where I struggled. I would ask for help from teachers and would attend tutorials when needed.
While I was away at school I would feel lonely and my advice for you is to make friends while you're here and to do your best to stay connected with them.
If you're planning on attending a new school next semester I wish you luck on your new adventures.
To my fellow graduates: I wish you good luck in your future endeavours and I want to leave each of you with a few pieces of advice.
1. Make yourself a top priority
The future is in your hands. Moving forward, you control your destiny and you will have to have your own back. Make sure to do what is best for yourself, and not anyone else.
2. Never stop learning
While our time at Pelican is coming to an end, there are always more opportunities to grow and learn. Approach the future with an open mind and be willing to learn from those you encounter.
3. Remember everyone's path is different
There is no wrong way to start your adult life. Everyone's journey is different and no one has the same destination in the end. Whether you choose to continue your education at Sioux North, or a post-secondary school, you take some time off, or get a job in your community, there is no one set path for each of us. I wish you all luck wherever your journey takes you.
Some of my fondest memories at Pelican include going on my house trip with House 6 and 3 to Winnipeg. We played paintball and had a lot of fun. Getting awarded Best Dressed at prom this year. My housemates this semester made returning to in person learning a lot of fun. LOVE YOU GUYS! I really enjoyed all the one on one learning I got from Ms. Martin and Ms. Shine this year. Although some people might hate online learning, I loved having the chance to sleep in my bed during class.
I would like to end today's speech with a few final pieces of advice for the grads. Be bold and take risks, and don't let the fear of failure stop you. Failure is a part of life. It's another way to learn. Change is a part of life, too. At times it's frightening, but we should see it as a chance to explore, and to test our limits.
Whatever your next steps, I ask you to see your time here as part of a lifetime of learning. And I encourage you to use that learning to leave every situation better than it was when you arrived.
Graduates – Congratulations! You have worked hard. We survived two years of online learning, a pandemic and all the other struggles life throws our way. You deserve to be proud of this achievement, and to take this opportunity to celebrate.
Good luck, and good health to all of you.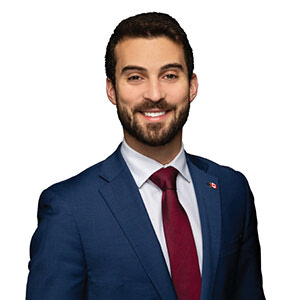 Tuesday, May 24, 2022
I was happy to be in Ottawa last week alongside my Conservative colleagues to fight for Canada's future...