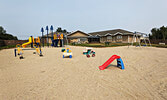 Community support enables FSWS to realize goal of providing a playground for clients' children
Reeti Meenakshi Rohilla -
Staff Writer
After more than 10 years of constant fundraising, the new playground they have worked so hard for has finally been installed at First Step Women' Shelter (FSWS).
"It's a secure playground. So, there is a big fence around and several cameras for the women and children that come here, because they are fleeing abuse. The families are fleeing abuse, so they are safe in the playground. It took years to fundraise for it because it was over $50,000 (about $60,000), and we are a non-profit and we don't have a lot of money. So, it took us ten years to fundraise to get the playground going," said FSWS Executive Director Tana Troniak. She added that the playground is exclusively for the use by those using the shelter.
When asked about the children's reaction, Troniak said, "They love it! The big playground with sand, it's beautiful. The children love it, especially during COVID, where there were a lot of things that you couldn't do." The shelter's fundraisers included barbecues, bake sales, and their Christmas Adopt-A-Family program.
Troniak thanked the community for supporting their organization over the years, and contributing to accomplish FSWS's long-term goal and open doors to a full size playground for its clients earlier this month. She said, "We want to thank the community of Sioux Lookout for all the donations received over the last 10 years to go towards our playground for the children, and women who receive services at First Step Women's Shelter. It has taken a lot of time, but it's complete. A fantastic looking playground for the kids, the children that come here."
Almost always running above capacity, even with the reduced numbers during the COVID-19 pandemic, the shelter continues to refuge at least 230 individuals each year, said Troniak. She added that while the funding may be limited to 14 individuals at any given time, it is not un-common for them to be accommodating 20 to 24 individuals at a time. "When we are full we have to send families to other shelters. We have to transport them to Dryden, Thunder Bay, or Atikokan, which we do a lot too," said Troniak.
Troniak said that they are hoping to further enhance the area with some landscaping, including trees, plants and flowers. She also shared that since there sits a little empty spot in the playground, they are considering adding another piece to it.
"It's a safe space for the women and children to go out and sit and enjoy the place. We've got some benches, we've got a gazebo. So, we are really looking at making our yard a safe place for our families to be outside," said Troniak. She stressed that this would not have been made possible without the immense community support received by the shelter.