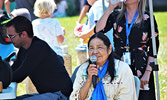 Community mourns the loss of influential elder Juliette Blackhawk
Jesse Bonello - Staff Writer
Family, friends, and community members are mourning the passing of elder Juliette Blackhawk, who was a member of Lac Seul First Nation and lived in Sioux Lookout.
Blackhawk was well-known, and highly respected, for her work as a native language and culture teacher, as an elder, her cultural advocacy, and her resiliency as a Residential School survivor.
She attended Pelican Lake Indian Residential School for over six years in Sioux Lookout, as well as Cecilia Jeffery Indian Residential School in Kenora for an additional two years. She went on to attend Lakehead University, where she acquired her teaching degree.
"You don't see too many people like her anymore. She was so humble, easy-going, and you could just sit down with her and talk about anything… It's a big loss for everyone in this area. She will be missed," said Lac Seul First Nation Chief Derek Maud.
"The best thing we can do is follow her footsteps as an advocate and a teacher. The best thing we can do to honour her passing is to follow the lifestyle she followed. Like most people in her generation, she went through the whole residential school era and she still managed to reclaim her culture and retain her language. It just shows the resiliency of her character," he said.
"It feels like I've lost my sister. She was a great person and she will be missed. She did a lot for this community, particularly the young children and the youth. She was a teacher for both language and culture, and she was a very strong advocate for promoting her language, her culture, and creating awareness not just for First Nations people but for the community in general," said Garnet Angeconeb, Blackhawk's cousin and fellow Residential School survivor.
"Juliette served the Nishnawbe-Gamik Friendship Centre, in various capacities, for over the past three decades. Most recently she abided the board of directors as a spiritual elder… She accepted the responsibility to pass on the anishinaabemowin, which is the traditional language, to others. She was a ceremony and knowledge keeper, leader, mother, and grandmother to many and a respected elder within our community. The loss of Juliette is not only felt by her family and the Friendship Centre, but by the entire community. She was a significant person of strength and knowledge in our community, and she certainly will be remembered throughout time. She had that positive impact on others that will carry on a life time. She certainly will be missed, but there must've been a celebration in the spirit world. We'll keep her close. She'll always be acknowledged, remembered, and honoured," said Jennifer Thomas, Nishnawbe-Gamik Friendship Centre Executive Director.
"She was so important to the work that we do, and so important to the work we'll continue doing. I think it's also important to recognize that Juliette had an impact both on a provincial and federal level for her advocation for the Anishinaabe people and the work that is being done in this area," she said.
A traditional funeral took place in Frenchman's Head on March 3.
The Nishnawbe-Gamik Centre said they closed their facilities for the day on March 3 to honour Juliette as she travelled into the spirit world.
"It's hard to even quantify the impact that she's had on our entire community, including the youth… The support, the impact, and the teachings that she provided, she really was a grandmother to so many people, including the youth… She really was that kokum to so many people, and that impact will live on forever. Juliette will certainly hold a place in all of our hearts for the things she's taught us, the messages she's passed on, and the positive influence she's had on all of us," said Thomas.