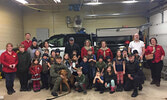 Community Corner
Touring the OPP detachment
This past week the Beaver Scouts had an amazing opportunity to go tour our local OPP detachment.
Cst. A. Degagne took the time to lead our youth and let them ask as many questions as they wanted, while taking our fingerprints (to take home of course,) tour the offices, and even check out the jail cells. This is where they wanted to lock up the Scouters for the night, but thankfully the Constable was on our side and we were freed!
While we were happy with that tour in itself, when we arrived in the garage, we were greeted by Cst. D. Sanderson and Cst. A. Martin. What a surprise they had in-store for us! They had arranged to teach us all about the Emergency Response Team and what they do in the community and region. They let us check out their OPP truck, try on some of the gear (it was SUPER heavy!), and finally show us the K9 Unit. They had brought in two dogs for us to see. The first one would bite and hold (meant for bad guys) and the 2nd one would locate a person and stay with them (missing persons.) It was very impressive to see how well trained and behaved they were. One of the youth even had the opportunity to give one of the dogs treats after he was done his work for the night!
We wish to thank Staff Sergeant K. Duewel for arranging this fantastic tour and the three Constables who took the time to share their skills, knowledge and patience with our group! We are truly blessed to live in such a caring and giving community where the youth come first! We appreciate all you do!
Nancy McCord, "Sunshine", Beaver Leader