Community Corner:
Legion Ladies Auxiliary

The Legion Ladies have once again returned to being active. We have catered a graduation dinner and had a spring raffle as two of the activities that we had done before the pandemic closed everything down. The winners of the Fresh Market gift cards were Debbie Whalen and Cynthia Jackson.
This spring we intended to sponsor a bursary at the high school for one graduating senior who was going on for further formal training either in a university or at a school for other trades. We were so impressed by our applications that we gave a $1000 bursary each to two graduating seniors: Kailey Barnes and Charles Darling.
We have ordered a new stove for the kitchen that we sometimes rent out for events. That new stove should be arriving sometime in August. We are excited about our new stove and know many who have used our kitchen will like it, too.
We have two events sponsored for the 40th Blueberry Festival: on Wed., Aug. 3rd—Bingo returns to the upper Legion Hall. It will be sad as this will be the first bingo in years where our faithful caller David Makahnouk will not be in attendance. David passed away during Covid. It will be the same format as previous years—the doors open at 6 and 5, Early Bird games begin at 7. There will be sandwiches and cheesecake available for purchase along with pop, chips, and other snacks.
On Sat., Aug. 6th, the Legion Ladies and the Sioux Area Activity Centre will host a Blueberry Tea. It will be in the upper Legion Hall from 2 to 4. Your $10 will get you tea, coffee, or juice with your piece of Blueberry Cheesecake. Last year the Legion Ladies sold 'take out' Blueberry Cheesecake and it was very successful. Also, there will be some speciality cards for sale at this event, similar to the poppy cards some of the Legion Ladies made and sold last year.
We wish everyone a happy summer and hope to see you at one of the events that we are hosting during the 40th Blueberry Festival.
Submitted by Sandra Lockhart.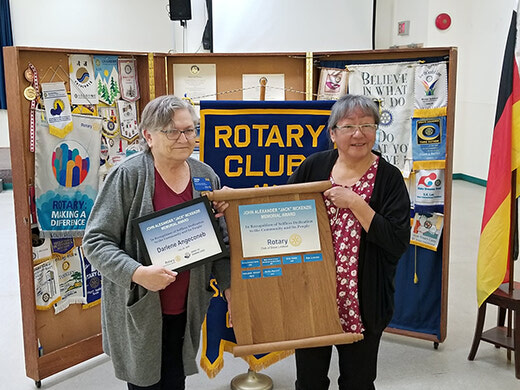 Tuesday, July 12, 2022
Do you know any volunteers? People who give their time and talents expecting nothing in return. The Rotary Club of Sioux Lookout is betting that you do and is hoping you nominate these selfless people for the Jack McKenzie Memorial Award...