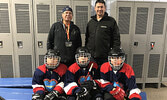 Community Corner
Hockey Equipment Drive
Greg Baas, from The Standard Insurance in Sioux Lookout, annually collects used hockey equipment and then distributes it to teams in First Nation Communities who need it. Greg has proudly been running this initiative for 3 years and has collected over 3900 pounds of equipment to date.
The Standard Insurance in Sioux Lookout acts as a drop off location for people looking to donate their equipment. As the donations pile up in the office, Greg then takes it home with him and sorts through it and stores it in his garage.
This year's equipment drive has just finished, and we would like to recognize all of the people that helped to make this happen. Perimeter Air has flown the equipment graciously to the 7 communities we have supported, free of charge. We would also like to recognize Christine Baunemann and Tabatha Bull for organizing the transport of equipment from Toronto and Bison Trucking for all of their help transporting the hockey equipment. A special thank you to Steven Dumonski for all of his support as well.
The Standard Insurance