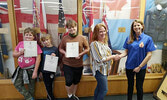 Community Corner:
Got your Poppy yet?
November 11th is quickly approaching, and the Legion Poppy Campaign is in full swing!
You can find a Poppy box at many business counters throughout Sioux Lookout, and this year you may even see a Veteran, Legion Lady, Air Cadet or Junior Ranger selling Poppies outside of a storefront as Covid restrictions are finally being lifted. Donations are always appreciated and welcomed! You can come down to the Branch to make a donation in person, go online or call the Legion to see what other options may be best suited for you if you choose to donate.
There is also a very special and local fundraiser happening around town.
Last October, Nancy McCord contacted the Legion and explained that she and her boys, Ethan, Christopher, and Donovan had a great idea to raise money to donate to our Poppy fund.
As most of Sioux may know, they painted heaps of rocks with a beautiful Poppy on them and sold them during the duration of the Poppy Campaign. To say their idea was a hit is an understatement - they raised a grand total of $1705, and generously donated every single dollar to the Legion Poppy fund! We were blown away by these efforts, but the most heartwarming part of it all was finding out that they had mailed rocks people had purchased as far as Ottawa and Edmonton, and many places in between... at their own expense. This was on top of their time collecting rocks, purchasing supplies, and painting and organizing their fundraiser themselves! Truly amazing, and one incredible show of support for our Legion. These boys have shown a genuine enthusiasm in what they are doing, and they are taking pride in their efforts to support our Veterans and their families. We need to have more youth like this taking interest in what the Legion stands for, the significance of Remembrance Day and important initiatives like the Poppy Campaign.
The whole McCord family - Mike, Nancy, Ethan, Christopher, and Donovan, put so much time into this project and we cannot thank them enough.
The family made their way down to the Legion recently and were presented with Poppy Appreciation Awards for their incredible commitment to their fundraising efforts during the Poppy Campaign, and they are at it again this year - they have their Poppy rocks painted and ready to sell!!
The Royal Canadian Legion Poppy Campaign is one of the most important programs, and the money raised from donations provides direct assistance for Veterans and their families. Importantly, funds donated locally, stay local.
If you would like to support our Legion and its Veterans all year long, become a Legion member or renew your membership. Come check out some weekly events happening like darts, cribbage and euchre, monthly meat raffles, trivia nights, and more. We are happy to be open to full capacity now and hope to see more faces around our clubroom soon!
Submitted by Polly McCarty, Manager, Royal Canadian Legion, Edwin Switzer Memorial, Branch 78 in Sioux Lookout.