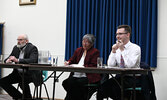 By-Election candidates answer community's questions at all candidates' forum
Tim Brody - Editor
Sioux Lookout residents had the opportunity to hear from three of the four Municipal By-Election candidates at the Sioux Lookout All Candidates' Forum for Councillor-at-Large on Jan. 7 at the Legion.
Candidates Connor Howie, Darlene Angeconeb, and Michael Quince were in attendance, providing opening and closing comments, as well as answering randomly drawn questions posed by the community.
Candidate Nick Costello had to travel for work and was unable to attend, but did address those present through a video submission.
The forum, coordinated by Sioux Lookout resident Anne Saltel and moderated by Sioux Lookout resident Dick MacKenzie, drew approximately 60 people.
The event was livestreamed by Mike Laverty and the Sioux Lookout Public Library.
Howie, who was born and raised in Sioux Lookout, said the location of the community poses many unique challenges. "We have a limited tax base, a higher cost of living, and of course our geographic location is a challenge, however our community has unlimited opportunities. We are the Hub of the North. There's a vast amount of projects in our region and we need to continue to advocate to be part of those in order for us to stay the Hub of the North.
He continued, "As government, we need to remember who it is we represent – it's you. I feel that sometimes is lost once elected. It's your voice, your concerns. I'm ready to stand up for that voice and stand up for your concerns. I've worked in previous political campaigns, travelled across our region, listened to the concerns of our community and those of our neighbours. I am here for you. We need to work as a team to be successful. We need to work together to grow our community. It's going to take hard work, it's going to take a lot of commitment, and I am willing to do that. You can't eat the fruit, the same day you plant the seed. Of course, this can all be done while being fiscally responsible. The money being spent is yours and therefore it should represent your vision for our community. The Municipality is however a business. It's a corporation. We need to explore how we can better spend money effectively and how we can move into the future while being fiscally responsible.
He further stated, "I commit to working to open property for development by working with the various levels of government, advocating for the development of a treatment facility and greater supportive housing, following up on the promise of long-term care beds, focusing on reconciliation and the calls to action applying to the Municipality, exploring the installation of a crosswalk at Sturgeon River Road, May Street, and First Avenue South, exploring the opportunities to work for our not-for-profit groups in our community, enhancing and expanding the recreational opportunities, upgrading and preserving our green space, exploring the installation of breastfeeding spaces for our young mothers in Municipal buildings and facilities, promoting and supporting environmentally friendly initiatives within our community, exploring new opportunities for community engagement and events, and lastly, ensuring that our community planning occurs in a way to preserve our neighbourhoods and community at large."
Quince paid homage to the late Cal Southall, whose passing last year created the vacancy on council.
"Sioux Lookout is a place that grew out of the opportunity of being in the path where a railroad went back in 1906, 1907 and developed out of its base from the railroad in its initial phases, and from that the roundhouse and the opportunities the railroad offered. The community evolved, I would say somewhat indirectly from forestry as well, but into the economy provided by the radar base. I think it started in the 50s and stayed with us, I would say until the 70s, in around there. From there, there was a bit of a downturn and out of that rose more opportunities for the communities in the north to provide their headquarters, their base, and see Sioux Lookout as the hub that it is today. There's a fair degree of history to the community," he shared.
Quince stated, "What we have now is a strong position, and of course it has been there for a while, is the communities of the north, like I said before, providing plenty of services and opportunities using Sioux Lookout as one of their bases. Sioux Lookout is fortunate to have a number of very strong and capable leaderships throughout our community to provide, through volunteerism and through the community, through council, to provide what we have today. Sometimes we don't really appreciate what we have, but I think Sioux Lookout is a unique place because it's attracted a number of people that are quite unique and have decided to stay here. Of course with wonderful health services with the hospital, is a huge bonus for Sioux Lookout."
He added, "The reason I want you to vote for me is because I think I can ask the hard questions. There's some things that don't seem to be front and centre when we deal with some of the movement forward, I'd like to say. Forestry – I'd like to see more community involvement in the landscape that surrounds us in terms of what that's going to look like and how it can benefit Sioux Lookout proper. One of the key things I would like to see is a strong, vibrant downtown core. That's one of the things it's lacked in the past. We keep thinking it's going to happen, and it doesn't happen. So my focus is on seeing the downtown Centennial Park be a place where we can all rub shoulders and enjoy ourselves and meet one another."
Angeconeb informed, "My background in political science provides me with the knowledge of government structures and procedures and working in partnership with the different levels of government. I am also aware, of course, of the 30 First Nations in this area and the partnerships that can be created with the First Nations councils.
"Like many others, I am also concerned about the high cost of living, the taxes, and the lack of housing. I've been living here since 1997. I've also been aware of the way Sioux Lookout has been changing. There's a number of jobs here but there is a lack of housing available for workers, so we're in kind of a bottleneck situation where things are getting caught up and we do have to look at economic development and what's happening with the infrastructure that's needed to provide housing. I know there are things we need to look at with the cost of living and the taxes for the people that live here. I attended the strategic planning meeting that took place not too long ago, so I'm aware of all these issues and I hope to be able to help with my experience, being involved."
Costello apologized for not being able to attend in person in his video message.
He informed he had set up a website, www.nicholascostello.com, and an email address, [email protected], to engage with voters.
"I think that's the point of being a councillor, is to represent the individuals, the community members, to council. I do have a couple of ideas I would call a platform. It's largely based around industry. I think industrial growth in Sioux Lookout is necessary for its success. I think we have an amazing opportunity right now, with the Watay Power project coming through, the development of mining in Northern Ontario, and tourism. I think we, as the Municipality, should be developing this industry and encouraging this industry so that we can benefit from it being here. I think industry then actually moves down into housing. Housing is a huge concern in Sioux Lookout and we need to be promoting the building of houses; Infrastructure and transparency in the municipality. I think it's important that the community members know what's going on and they understand the way money is being budgeted, what we're using it for, and have a say in how that money is being spent."
He concluded his message by encouraging people to vote.
The majority of the forum consisted of the candidates answering randomly drawn questions from the floor.
The first question asked candidates about how they would support local business, giving examples of the Municipality of Sioux Lookout purchasing from outside of the community and suggesting a local spending policy was needed.
Angeconeb answered by stating Sioux Lookout has a Chamber of Commerce, and highlighted businesses along Wellington Street and King Street, stating that perhaps there need not be such an emphasis on Front Street.
Quince said trust in council comes from the sharing of information. He said people sometimes don't know what the Municipality is doing. He also said residents should try to inform themselves on Municipal matters as best they can.
"I think there seems to be a disconnect between council and the community they serve," he said.
Howie shared, "I believe the issue of a local spending policy was raised in the 2018 municipal candidates' forum when some pigs were bought from Dryden. I believe there's a councillor now who brought up you can buy them in Alcona, and some catering was brought in from Dryden. So I think the answer is we need a local spending policy because we need to support local business. It's that simple. We need to make the environment in our community prosperous for business, and if there are individuals or organizations that seek the need to buy out of town, shame on them. But I believe our Municipality needs a policy to spend locally. It's as simple as that."
Asked if they would be able to attend meetings regularly, each of the candidates said they could.
Candidates were also asked how they would lobby the provincial government to recognize Sioux Lookout's unique situation – no industrial tax base, high municipal taxes and a lack of affordable housing, with unique funding.
Howie stated, "I believe the answer isn't just necessarily seeking funding. We're not seeking handouts here. It's the diversification of our economy in our community. I think our council has done a lot of work to improve the environment for business in our community, and that's what we need. We need to be welcoming for business in our community. Yes, we need housing and we can't fill jobs because we lack housing. Currently there is progress for a development beside Tim Hortons for an apartment building and I believe we need more just like that. Build up, instead of out, and then they will come. There's many jobs, great paying jobs, expanding our tax base is the answer, building our economy, diversification, not seeking, necessarily
funding."
Quince stated, "I think this community relies heavily on government funding right off the hop. I would like to see a different tactic, I think council, in all due respects for the decision to provide an accommodation tax, should also have applied it to the tourism industry because they bring in a lot of revenue as well. Four per cent from their revenue would help immensely. I think we ought to be seeing ourselves diversifying in more ways. Part of my desire is to see Sioux Lookout become a destination for Drydenites to come up here. How do you bring Drydenites up here to spend money? This is the whole notion of what's going on here. I think council could provide opportunities for low taxes or tax free incentives for businesses to get themselves off the ground, to get things going. We all talk about housing, but do you think young people want to take a $300,000 mortgage? They don't even have a steady job and any sense of security in the long term. Housing is important, I agree, but we have to look at housing in a more imaginative way than industrial type housing and apartment blocks."
Angeconeb said, "A long time ago it was the CN line, and then it was the forestry, the Hudson mill more or less shut down and the forest industry is not doing very good. We do have some mining going on in the different surrounding areas. And now we have the Watay Power, as Nick had mentioned, the electrical line that is going up forming the grid into the remote communities. I don't see anything wrong with pursuing government funding to help in any way that we can. Northern Ontario Heritage Fund, FedNor, why can't we approach those things to support and promote businesses here in Northern Ontario? We also need to get creative with some of the businesses and industries that we can have here in Northern Ontario, why not look at the natural resources and look at the beauty of our surrounding lakes and waters, forests, and promote eco-tourism? Look at different ways, look for different solutions, that's what I would pursue."
Candidates were also asked their position on the inclusion of a pool in the proposed new recreation facility for which funds have been applied for by the Municipality,
Howie stated, "Dryden is having difficulty staffing their pool, as is Kenora. Our community has difficulties staffing any job… we will be tested with our new town beach, with the new layout, the new dock, new marina, finding lifeguards for there, staff for that facility. Yeah there are benefits to having a pool, the aspect of health and fitness are great, however we need to first examine the challenge of our town beach, and the new development that poses with staff. We need to further explore the costs of running a pool, especially in our northern climate, and then staffing as well."
Angeconeb commented,
"I can see it would probably cost a lot of money to maintain such a thing. There were pools here in town in the past, but they were connected to businesses and it wasn't feasible for them. I don't know how it would be feasible for the Municipality to take on such a structure. Would the Municipality be paying for it and how would we be paying for it? Would it come out of the taxes or would it come out of funding? It would be nice to have for those that use that type of facility, but who is going to staff it is another question. There are a lot of concerns with a pool."
Quince shared, "We had a swimming pool at the Sunset Inn. We could have worked a program where we could cost share and have a pool. We had a pool at the Forest Inn before that. Same sort of thing. Best Western (now Sioux Lookout Inn) had a pool; I don't know what happened to that. It just doesn't seem to be economically viable and we're all concerned with big taxes, so even though I'm a swimmer, I think we should be looking at hot tub in the lake, how do you like that?"
Candidates were also asked what they felt the greatest strength they could offer as a councillor would be and how they could channel that strength to make Sioux Lookout a stronger community.
Angeconeb stated, "My greatest strength I believe is my resiliency. My resiliency to survive the Indian Relocation Program, there's a half hour film I'm going to make available to the library. So that's part of our history. Part of our history also includes residential school. So Pelican Indian Residential School was here. I went there when I was six. When I left there it was in 1977. I also went to day school on the reserve. I went through all that. Then I ended up in high school, getting sent away to pursue my high school in another city and so forth."
She continued, "Surviving and becoming resilient meant having to face some of the things that happened in those places. Coming out of that, about 20 years ago, when I started working at Equay-wuk, was when I started realizing about mental health, about addictions, and those things that we are facing in this community now. So I believe my experience and resiliency through my life that I've carried will contribute to my being on council and being that voice, that resiliency."
Howie commented, "I think my greatest strength would be listening. As I said earlier, I've travelled across our region, and within our community and heard the concerns of many of you sitting in this room and that will translate to my success on council and bettering our community through being your voice, asking those questions and representing your interests in our community. I think that is ultimately the goal of council and I think our strongest asset in our community is our people. We are a great community and a vibrant community, and many of you are invested in our community not only financially, but through the effort and the sweat that you expend in many committees you sit on, or the many events that you attend, and I think being your voice will be an honour and listening to your concerns would be an honour and speaking for you on council would be an honour."
Quince answered, "When you're a person that sticks his neck out as much as I do over the last 40 years living in Sioux Lookout, it's hard to believe I'm still here. You know when you write letters to the editor, question what's going on in a certain perspective, oftentimes you get criticized, you set yourself up for a small town yapping mentality, and that's just the reality of it. My strength is the fact I'm willing to ask the hard questions. You know what, you put me on council, it's going to be fun! You're going to get more than just a look of an ordinary normal councillor."
He continued, "I like living in the woods, that's why I enjoy Sioux Lookout. I've survived it for 40 years and I'll probably survive it for another at least four, so put me in for three years, and let's get the fireworks going, because it's going to be a lot of fireworks if I get on council. The downtown core is going to be different when I'm a councillor. You know what we're going to have, we're going to take that market, where you have to drive, in our day and age you have to drive to the market, we used to have it on Third Avenue, and you know what, it became extremely popular. It was amazing the people coming out, rubbing shoulders, having fun, the downtown core, we're going to bring that market back here. On top of that, the market is going to turn into a flea market, and on top of that, it's going to turn into a concert on Friday nights with a bonfire."
Candidates were also asked how the environment and climate change would factor into their thought process when making decisions. Each candidate said greatly.
Saltel said her decision to coordinate the forum comes from a desire to hear from the candidates and allow community members an opportunity to question the candidates.
She said she was very impressed with the turnout for the forum and the diversity of questions asked.
She thanked her team of volunteers who helped her put the forum on and the Legion for supplying the venue.
"I was glad to hear everyone's platform, if you want to call it a platform, and their ability to think on their feet. It was great," she said.
People can view the candidates' forum in its entirety on the Sioux Lookout Public Library's YouTube channel, SLPublicLibrary.
The candidate that is voted in will fill the vacant Councillor-at-Large seat for the remainder of Council's 2018-2022 term. The voting period for the Municipal By-Election will commence on Monday, January 20 at 8:00 a.m. and will run to January 27 at 8:00 p.m. The by-election is being conducted through internet and telephone voting.