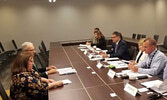 Busy AMO Conference for Sioux Lookout representatives
Jesse Bonello - Staff Writer
Sioux Lookout Mayor Doug Lawrance, along with Chief Administrative Officer Michelle Larose, attended the annual Association of Municipalities of Ontario (AMO) conference in Ottawa from August 18 to 21.
Lawrance said the conference had a high attendance this year.
"I think the conference was extremely well attended this year by both delegates and cabinet ministers. I think there were 27 cabinet ministers, so that was very successful," he said.
While at the AMO conference, Lawrance shared that he had delegations with eight ministers, discussing a variety of topics including policing costs, a detox facility in Sioux Lookout, safe houses for youth, and upgrades to highways around Sioux Lookout.
"We had delegations with eight ministers. (Ministry of Health and) Long-term Care (Christine Elliot) and you can imagine what that was about (76 more long-term care beds for the community). I think it was a good meeting and I think we're in a good place here. It seems like they're trying to figure out how the funding dollars will work, but it seems to me that we're approved to go ahead.
"We met with the Attorney General (Doug Downey), and what we were asking was for continued involvement in the Community Justice Centre project that's going ahead for the city of Kenora. We were involved in the development of that during the feasibility stage and looking for a satellite in Sioux Lookout. We got that commitment and, the day after our delegation meeting, I got a letter from the Attorney General committing to that and inviting our participation.
"With the Solicitor General (Sylvia Jones), we had one ask and that was to normalize our policing costs, so we'll be negotiating with the Solicitor General in the coming months.
"Mental Health and Addictions, we continue to ask for a detox facility in Sioux Lookout for addictions treatment centre for psychiatric services based in Sioux Lookout.
With the Minister of Children, Community and Social Services (Todd Smith), it was about safe houses for both female and male youth and post crisis housing for women with youth and children.
"The Ministry of Municipal Affairs and Housing (Steve Clark), we offered to work with them on a municipal concept to develop a municipal, provincial, private incentive program to single family and rental housing. We also asked that the Minister continue to work with our (Kenora) District Services Board on a new, fully resourced, emergency shelter and service hut in Sioux Lookout.
"The Minister of Transportation was for continued support for our transit system in the community, and for upgrades to various highways around Sioux Lookout.
"With the Minister of Natural Resources (John Yakabuski) we met and, as well as the Ring of Fire, we discussed the transfer of various crown lands within the municipality to the municipality. Those were our unique municipal meetings with ministers," said Lawrance.
During the conference, Lawrance said he had a good discussion with Yakabuski in advancing the case for choosing an East-West route to access the Ring of Fire. The Ring of Fire, which is located 500 kilometres north of Thunder Bay, is considered the most promising Ontario mineral development opportunity, with estimates suggesting the existence of a multi-generational source for chromite production.
"I was able to have a pretty good discussion with the Minister of Natural Resources about the East-West road, and I think what we'll be doing is following up, probably with the Minister of Environment (Jeff Yurek), in bringing this to a head somehow with an official request for environmental assessment to the Minister of Environment and copied to the Minister of Natural Resources," said Lawrance.
In the wake of the Ontario government recently moving forward with municipal funding cuts for public health and child care in 2020, Lawrance shared that municipalities are already beginning to oppose the cuts.
"The municipalities are pushing back against some of the provincial push to financial cuts, which really translate into downloads to municipalities for services. The cuts will reduce services and the only way to keep those services is through the municipal property tax base, so it's a battle," he said.
"It's a bit premature to say… Eventually these cuts will impact our budget. The services are necessary and somewhere they're going to be paid," he added.
On May 3rd of this year, Sioux Lookout issued a request to Federal, Provincial and Indigenous leaders to establish a Task Force to begin to address "the complex, deep-seated and historic issues facing our community". Then, on August 6, Sioux Lookout issued a media release supporting Grand Council Treaty#3 Ogichidaa (Grand Chief) Francis Kavanaugh's July 31 call for "partnership and collective leadership" to address social issues faced by the city of Kenora and other towns in northwestern Ontario following a 45 day closure of the Kenora (Homeless) Shelter. Lawrance shared that, to date, they have yet to receive a response from the province.
"We have written recently to the government. We will fully participate in the meetings that are going to be conducted through our district services board, the Grand Council of Treaty#3, and with NAN participating on those issues. To date, we haven't received a response from the province, but I think by joining forces, and we now have significant attention in area municipalities and First Nations, and by working together we have a real opportunity to get the attention of the province on some of the unique issues facing the municipalities on the front line of these issues in northwestern Ontario," he said.