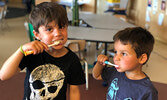 Brushing program at SMPS emphasizes the importance of oral hygiene
Jesse Bonello - Staff Writer
Sioux Mountain Public School (SMPS) students are taking time throughout the day to focus on their oral hygiene by participating in the Northwestern Health Unit (NWHU) Brushing Program.
Teachers have the option of running and monitoring the program in their classroom during the day, which allows students to brush and take care of their teeth at least once throughout the day.
The NWHU shared over 150 students at SMPS are participating in the program.
"I go in and do oral hygiene instruction with any teacher that requests it, and I do certain grades as well. This year, we have 180 kids at Sioux Mountain Public School brushing their teeth. Teachers have come forward to say that they'd like to start the brushing program, and we supply them with everything that they need to do that. We supply the brush holders, the brushes, the toothpaste, and infection control tools like gloves and wipes. Then I go in and teach the kids how to brush their teeth and the teachers carry on while they're at school. They're doing it at least once a day during the school day," said JoAnne Van Horne, program assistant and health educator with the Northwestern Health Unit.
"It's a great opportunity for kids to get that extra brushing in and, for some children, it's the only brushing they get. We know that it will help the decay rate go down… When I presented it (the program) to teachers at Sioux Mountain Public School last year, I couldn't believe the number of teachers that were interested, and I thought this is fantastic," she said.
Teachers at SMPS said students, ranging from some of the younger classes to the older classes, have shown enthusiasm and excitement for the program.
"I thought the tooth brushing program was good. I had a really keen group of kids last year, so they really bought into it… I had a keen group that wanted to do it twice a day so, after recesses, they thought it was important to brush after their snacks. A lot of them bought into flossing as well," said Lisa Salonen, grade five teacher at SMPS.
"They kept it up for a long period of time. They took responsibility for it, and I think they felt better about themselves. The younger you can get them to buy into this, and look after their oral hygiene, the better. I thought it was beneficial, and the kids enjoyed it. It was nice that the Northwestern Health Unit provided everything, and JoAnne Van Horne and her team are just a phone call away. They did a lot of instructing as well on how to brush and how to floss, so she (Van Horne) was always a good resource for that as well," she said.
"I'd say the participation rate in my class is about 90 per cent so far, and the kids are really excited about the program. They show enthusiasm, and they're very excited to brush their teeth every day when they come to school," said Brooke Koistinen, grade 1/2 teacher at SMPS.
Van Horne emphasized the importance for students to brush their teeth at some point during the day, especially when their lunches contain high amounts of sugar that sit on their teeth.
"When a child brings a Kool-Aid Jammer to school to drink, which has like eight grams of sugar in one, and they have a Fruit Roll-Up, which has about 12 grams of sugar in one, all that sugar is sitting on your child's teeth all day long, so what a great opportunity for kids to brush their teeth throughout the day to at least get some of that sugar off of the teeth instead of it sitting all day long. What I do tell the kids is, just because you're brushing your teeth at school, this doesn't mean you don't have to do it at home. This does not replace the other two times a day that you should be brushing your teeth," she said.
"We're trying to remind parents to send those less-sugary snacks to school and less-sticky snacks. Some of the better snacks to send are cheese, celery, carrots, and all those healthy snacks. Teachers promote water in both schools. You can send your child with a water bottle because they're able to fill up their water bottle," she added.
Along with offering the brushing program, Van Horne said the NWHU does dental screenings in SMPS and Sacred Heart School as well as offering fluoride varnish application.
"What I also do in the dental program is we do the fluoride varnish. We offer fluoride varnish, which is painted on to the teeth. We'll be going in to both the schools (Sioux Mountain Public School and Sacred Heart School) in October and November, so parents should watch for those consent forms coming home… We know that the fluoride helps strengthens the enamel on the teeth, especially baby teeth, and that's a free service through the health unit," said Van Horne.
For more information about programs and services offered by the NWHU, call 737-2292.