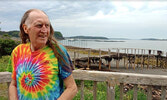 Brian Beaton, original K-Net Coordinator/Director, remembered
Tim Brody -
Editor
Brian Beaton, remembered in many remote, fly-in Indigenous communities in Northwestern Ontario as the manager of the team that built K-Net, has passed away.
"It is with heavy hearts that KO's (Keewaytinook Okimakanak Tribal Council) Senior Management Team announces the recent passing of Mr. Brian Beaton on October 2, 2021, in Fredericton, New Brunswick," KO shared in an Oct. 5 media release.
KO shared, "Brian grew up on a seven-generation dairy farm in the Ottawa Valley. He left the farm for university after high school, getting his Bachelor of Math (Computer Science) at Waterloo. After beginning his IT career providing tech support at the University of Ottawa, he set out across the country to Northern Ontario."
Over a period of three decades Beaton is credited with developing telecommunications infrastructure and services for KO and surrounding communities.
"Brian and his team grew K-Net to be the largest Indigenous-owned and operated telecommunications services company in the world, partnering on fibre broadband rollouts across thousands of kilometers of Canadian Shield and installing community satellite dishes and cell phone towers on the tundra up to Hudson Bay. K-Net brought Internet, social media, distance education, videoconferencing, the Keewaytinook Internet High School, KO e-Health and Telemedicine, and the K-Mobile cell service into dozens of remote northern communities, creating many new possibilities for the community members," KO explained.
Jesse Fiddler, the current Director of K-Net remembers Brian fondly stating, "For those of you who didn't get a chance to know Brian, he was the original K-Net Coordinator/Director for our tribal council Keewaytinook Okimakanak. At that time, about 25 years ago, many of our communities had little or no telecommunication infrastructure like telephones and the Internet was a just taking off as a platform for communication. With the vision given to us by our Chiefs and First Nations, Brian dreamt big and delivered even bigger on what we could build in our communities using the resources we had."