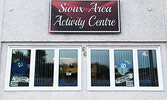 Blueberry Festival 2020!
Sioux Lookout's 38th Blueberry Festival begins on July 31 and will run through to August 9th. Charron Sippola, with the help of a few assistants, created this Blueberry Festival scene on the Front Street facing windows of the Sioux Area Seniors Activity Centre last week in celebration of the annual 10-day festival.
This year's festival will be a bit different than previous year's festivals due to the COVID-19 pandemic. Many events have gone online or are taking place in new ways to adhere to public health measures. People can keep up to date on festival information at www.blueberrybert.com.