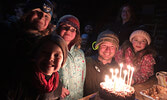 Birthday surprise!
Long-time Friends of Cedar Bay volunteer Matt Culham was treated to a surprise birthday celebration, complete with cake, at the 4th annual Moonlit Cozy Cabin on Feb. 8.
Culham's wife Beth Dasno put together the surprise birthday celebration along with Friends of Cedar Bay volunteers Suzie Hughdie, Kelly Beattie and Natalie Northway, organizers of the annual Moonlit Cozy Cabin.
Beattie shared the idea behind the annual Moonlit Cozy Cabin is to give visitors an opportunity to experience Cedar Bay during the evening, under a full moon.
A sliding hill, bonfire, tea and hot chocolate, along with treats prepared by members of Beta Sigma Phi, who hosted the Cozy Cabin during the day, rounded out the evening.