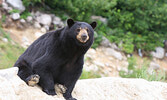 Bear Wise calls for Sioux Lookout comparable this year to last
Tim Brody -
Editor
There have been a comparable number of calls to the provincial Bear Wise reporting line from the Sioux Lookout area this year to last year.
According to the Ministry of Northern Development, Mines, Natural Resources and Forestry, from May 1 to August 8 in 2020 Sioux Lookout had 52 bear calls, compared to 47 calls for the same period this year, which the ministry said is a fairly average number for this district at this time of year.
Ministry spokesperson Jolanta Kowalski attributed this to people in Sioux Lookout being very aware of their large, furry neighbours.
People have been sharing social media posts advising of bear sightings in Sioux Lookout.
The Ministry said there is a shortage of berries in the bush this year, a result of a late frost combined with a lack of rainfall.
"There is a shortage of berry crops across the northwest so bears are having a harder time finding high volume food sources to put on fat towards this year's hibernation cycle. When natural food sources are poor, bears will travel long distances in search of alternatives, potentially leading to increased human bear conflict. Attractants such as commercial food waste and household garbage can draw bears into town," Kowalski shared.
The Ministry shard the following Bear Wise tips to avoid bear encounters:
Garbage:
put garbage out only on the morning of garbage day, not the night before
put meat scraps in the freezer until garbage day
put garbage in containers that have tight-fitting lids and store it in a bear-proof location such as your basement or a sturdy garage
frequently wash garbage cans and recycle containers and lids with a strong-smelling disinfectant, such

as bleach

take garbage to the dump often, if you do not have curbside pick-up
Bird feeders:
fill bird feeders only through the winter months
Barbecue:
burn off food residue and wash the grill right away
empty the grease trap every time you barbecue
be aware that cooking odours can attract bears
Fruits and berries:
pick all ripe and fallen fruit from trees and shrubs on your property
Pet food:
do not leave pet food outdoors, in screened-in areas or porches
Dogs:
leash your dog(s) when walking through communities or out in bear country to reduce the potential of dogs harassing a black bear or of being attacked by one
unleashed dogs may instigate a chase response that may lead the bear back to you
check your yards for the presence of a black bear before letting your dogs out
According to the Ministry if you encounter a bear:
When bears are caught off guard, they are stressed, and usually just want to flee.
Stop. Do not panic. Remain calm.
Generally, the noisier the bear is, the less dangerous it is, provided you do not approach. The noise is meant to "scare" you off and acts as a warning signal.
Do
Slowly back away while keeping the bear in sight and wait for it to leave.
If the bear does not leave, throw objects, wave your arms and make noise with a whistle or air horn.
Prepare to use bear spray.
If you are near a building or vehicle get inside as a precaution.
Drop any food you may be carrying and slowly move away.
After the
bear leaves
Report the bear encounter by calling 1-866-514-2327 (TTY 705-945-7641 )
Tell your neighbours about bear activity in the area.
If the bear was eating non-natural food (such as garbage or bird food), remove or secure the item.
To learn more about black bears please visit Be Bear Wise and prevent bear encounters | Ontario.ca.
The Ministry advises people to call 911 or their local police detachment in emergency situations such as a bear posing an immediate threat to personal safety, and exhibits threatening or aggressive behaviour, such as:
enters a school yard when school is in session
stalks people and lingers at the site
enters or tries to enter a residence
wanders into a public gathering
kills livestock/pets and lingers at the site
Police will respond first to an emergency situation, but may request assistance from the Ministry of Natural Resources and Forestry during daylight hours.